Published On
Jalandhar villagers in limbo after devastating flood; Dhaka Basti Residents seek Govt's help
Dhaka Basti residents struggle to rebuild after July's catastrophic floods. Author :
Malkit Singh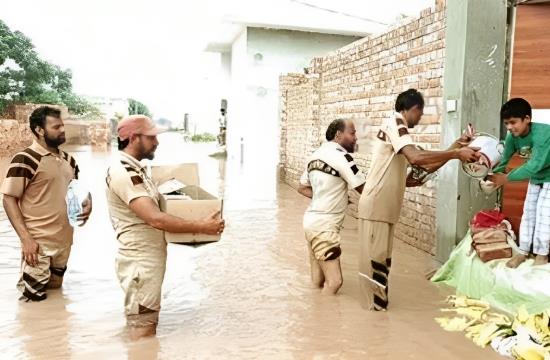 Jalandhar, Punjab: In the wake of the catastrophic floods that swept through Dhaka Basti in July, residents of this Punjab village find themselves in a dire situation, with little aid forthcoming from the government. The flooding, triggered by the overflowing Sutlej River, left a trail of destruction, causing houses to crumble and displacing families.
Initial Relief, Lingering Desperation:
When the floods struck on the night of July 11, villagers sought refuge in relief camps and have since been living in makeshift accommodations in Null village. Tarpaulin and tents now serve as their temporary shelters. The devastation was not limited to Dhaka Basti; neighboring villages along the Sutlej River also faced severe damage.
Salvaging Bricks at Great Personal Risk:
With promises of aid going unfulfilled for two months, villagers have taken it upon themselves to salvage bricks from the river in a perilous endeavor to reconstruct their homes. Some have resorted to using makeshift life buoys, such as tubes tied around their bodies, to collect bricks. Tragically, this desperate undertaking claimed the life of a villager, Harmesh, who ventured alone into the water and did not return.
Government Compensation and Financial Struggles:
Following Harmesh's tragic death, the government provided his wife with compensation amounting to Rs. 4.5 lakh. However, the family's financial hardship remains profound. Harmesh, a laborer, leaves behind his wife, elderly mother, and two teenage sons.
Also Read: Security tightened at Patiala's Punjabi University amid student protests
Villagers Allege Empty Promises:
Villagers express frustration and disappointment at the lack of government assistance. Satvir Singh, a resident, implores, "If you want to witness the ground reality, visit our villages where houses have crumbled due to breaches in the embankment. People are retrieving bricks from the submerged remains of their old houses to reconstruct homes for their families."
Appeals for Relocation Unanswered:
Residents of Dhaka Basti have long been pleading with the government to relocate them to a safer location. Unfortunately, both the current government and previous administrations have paid little heed to their pleas. While initially provided shelter in the grain market, they are now being asked to vacate the area due to the upcoming paddy harvesting season.
In these trying circumstances, the villagers of Dhaka Basti continue to face adversity and uncertainty as they work tirelessly to rebuild their lives amid the wreckage left by the devastating floods.