Published On
Viral Video: Father of 8-year-old daughter brutally thrashed her after quarrel with wife
In the video, the way he was beating, the child could have died.
Author :
Priyanka Vinayak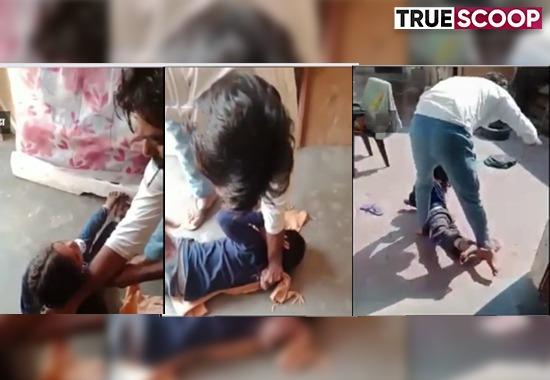 A shocking case has come to light from Ram Pura Phool where a father of an 8-year-old girl brutally thrashed her. He pressed her throat. When the intoxicated father was doing this act, the child Manpreet Kaur was screaming. The father was identified after its video went viral.
The police has arrested him and registered a case against him. The accused said that he used to fight with his wife because of his daughter, due to which he beat her up. He adopted his daughter Manpreet Kaur.
The girl's mother Rajwinder Kaur said that her husband had kicked her out of the house two months ago. He has adopted this daughter from village Dina Kangar. When she was kicked out of the house, she was not allowed to take her daughter with her. As a result, daughter Manpreet remained there. After the video went viral, she complained to the police. She alleged that Nirmal was keeping another woman in the house. He wanted to kill his daughter.
SHO Darshan Singh of Police Station Rampura said that the accused first beat up the wife. Then beat up the daughter. The way he is beating, the child could have died. A case has been registered against the accused on the statement of the mother. The child has now been handed over to the mother.