Published On
From July 1, Punjab to put ban on single-use plastic products, True Scoop already initiated PolyEnd campaign against single-use plastic items in Punjab in 2020
Punjab Pollution Control Board will prohibit the sale of numerous single-use plastic products; even the online purchase won't be possible.
Author :
Nishtha Jairath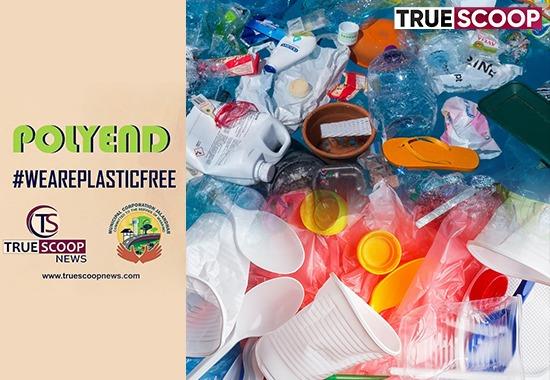 From July 1, the Punjab Pollution Control Board will prohibit the sale of numerous single-use plastic products. It will be impossible to sell even through online businesses. It will also be prohibited from being manufactured and sold in factories. Imports of such items will be prohibited which include earbuds, birthday cake plastic knives, Thermacol dinnerware, candy sticks, and other items as well.

It's worth noting that Punjab uses roughly 50,000 tons of single-use plastic each year. The Himachal government issued the decree three days before the Punjab Population Control Board. Punjab is home to around 1000 plastic manufacturing plants. It will now be permissible to utilize formal utensils, banana leaves, clay, sugarcane peel products, and corn-potato starch. The carry-on bag prohibition will persist, according to the Pollution Control Board. Businessmen, on the other hand, have approached the government for assistance.

For the past two years, True Scoop News has been running the campaign:

True Scoop News, based in Jalandhar, has also been a vocal advocate for single-use plastic bans for quite some time. For the past two years, True Scoop News has been pursuing a campaign in this direction. Meanwhile, people all around Punjab have been warned about the dangers. True Scoop News has also received assistance from senior Jalandhar administrative officials.

Last year, in collaboration with the Municipal Corporation of Jalandhar, PolyEnd 2020 was launched. We proclaimed many schools, universities, and eateries in Jalandhar to become Plastic Free as part of this program. We also held Action Camps in schools and colleges, where we discussed economical and practical alternatives to single-use plastics and encouraged students to join the movement by using the hashtags #WeArePlasticFree and #KillThePlasticMonster.

Also Read: Patiala Clashes: Punjab govt takes action against IG and SSP, CM Mann orders probe

We'd want to expand this campaign with your aid because it closely coincides with one of our major values: bringing about social and economic transformation. We'd like to start this campaign in Chandigarh so that we can limit the usage of single-use plastics on a regional basis.

We will raise awareness about plastic pollution by employing several approaches. We will provide dedicated resources to ensure that the task is completed efficiently. Our delegated team will devote their complete attention to this work. We will also engage in unique activities to raise awareness about our current effort. Our focus will be on presenting real-time plastic alternatives so that individuals can limit their use of one-time plastic materials right away. We will use both outdoor and internet marketing to carry out our ideas.