Published On
Gandhi Jayanti 2022: Who was Nathuram Godse, the man who killed Gandhi and his position in India's politics today
Nathuram Godse a staunch Hindutva ideologue and a huge admirer of Mahatma Gandhi, but what made to kill him the man who led India in the fight for Independence Author :
Tushar Singh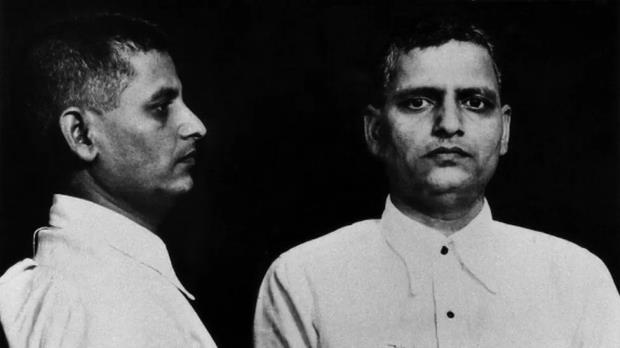 It was January 30th, 1948, Mahatma Gandhi was inside the premises of Birla House for his usual evening prayers surrounded by hundreds of his followers and close aides.
Who knew they are watching their icon the man who led India to Independence against the British for the one last time?
And on part of Mahatma Gandhi, less he knew what was waiting for him as he stepped out for his everyday routine. On that evening 3 bullets were fired whose sound shook the entire Birla House premise and paved the way for politics for generations to follow.
Mohandas Karamchand Gandhi is dead, the man named Nathuram Godse who shot him was a staunch Hindutva wadi belonging to a fanatic right-wing outfit 'Hindu Mahasabha' and was a huge admirer of Gandhi.
But, why did he commit a gross act like that which has been framed as the darkest incident in the history of India? On Mahatma Gandhi's 153rd birth anniversary a visit in the past to Godse's confession but moreover why did he kill the man who led India's fight for 'Purna Swaraj'
Who was Naturam Godse:
Godse was born into a Konkani Brahmin family in Baramati, Pune (Maharashtra). He was truly inspired by the nationalist ideals and chose to join the Hindu Mahasabha and the Rashtriya Swayamsevak Sangh (RSS), the ideological fountainhead of India's ruling Bharatiya Janata Party (BJP).
Godse worked as a tailor and sold fruits to earn his living before joining the Hindu Mahasabha, where he was appointed the duty of editing newspaper.
Godse took entry into RSS as a ground-level editor and later held a post in a Marathi daily Agrani-Hindu Rashtra, which had the investment of Vinayak Damodar Savarkar.
Godse was staunch in his beliefs and ideals. He went on to form 'Hindu Rashtra Dal' after a feud against then RSS chief MS Golwalkar.
What triggered him to kill Gandhi:
The answer to this question dates back to late 1949 in November. In his confession before the trial court, he made a clear mention that he was not unhappy with Gandhi's support for the Muslim community and entirely blamed him for the partition which eventually led to the formation of Pakistan.
5G Launch in India: From instant virtual connectivity to online learning, A detailed explainer of 'Internet Revolution' in 7 points
In his statement, he wrote, "Indian politics in the absence of Gandhi would surely be proved practical, able to retaliate, and would be powerful with armed forces. No doubt, my own future would be totally ruined, but the nation would be saved from the inroads of Pakistan."
During the trial, he read out a 150-paragraph statement in court taking more than five hours. He said there was "no conspiracy" to kill Gandhi, thus trying to absolve his accomplices of any wrongdoing.
He denied all forms of charges that he had acted under the guidance of his leader, Vinayak Damodar Savarkar, who is believed to be the man after the idea of Hindutva or Hindu-ness.
Although Savarkar was relieved of all charges, critics stood by the belief that the radical right-winger was connected with the assassination of Gandhi.
The trial court eventually sentenced Godse to death a year after he assassinated Mahatma Gandhi on November 15th, 1949, alongside him, his accomplice Narayan Apte, was sentenced to death with six others charged for life in prison.
Decades down the line Godse still remains at the center of politics today, with Congress and other opposition parties divided by the views of some fanatic nationalist members of the ruling BJP and its motherly figure RSS, who bats for Godse leveling his as nationalist.
In the year 2010, the Indian National Congress came up with a commemorative written piece volume, which presents 125 years of work of the grand old party.
The published work titled 'Congress and the Making of the Indian Nation', also presented Godse's association with RSS and Hindu Mahasabha, and showed how these organizations were linked with Gandhi's murder.
The publication drew sharp criticism from RSS which was led by its spokesperson Ram Madhav, who claimed that Godse left RSS way back in the 1930s.
RSS also served a ban from the then Home Minister Sardar Vallabhbhai Patel on the suspicion of involvement in Gandhi's killing, however, it was lifted owing to a lack of evidence.