Published On
Ganesh Chaturthi 2023: Joyful celebrations marked by blessings and warm wishes!
Ganesh Chaturthi, a significant Hindu festival, is just around the corner, spanning from September 19 to September 28. Author :
Malkit Singh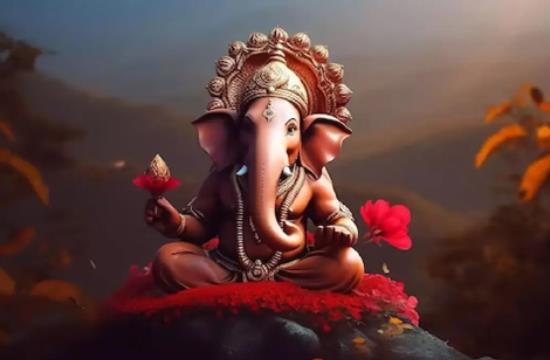 This ten-day celebration holds a special place in the hearts of devotees worldwide as they come together to honor the birth of Lord Ganesha.
Lord Ganesha, the beloved elephant-headed deity, symbolizes wisdom, prosperity, and good fortune. The festival involves a series of rituals meticulously following the Shodashopachara Puja, consisting of sixteen sacred steps.
One of the central elements of Ganesh Chaturthi is the installation of Lord Ganesha's idol.
Devotees can place the idol in their homes or communities, and these idols are crafted with the utmost care and devotion using materials like clay, wood, or metal.
Throughout the festival, melodious bhajans (devotional songs) and kirtans (praise songs) fill the air, resonating with the spiritual fervor of devotees. It's a time of deep significance and heartfelt devotion.
In regions like India, temporary structures called pandals are erected and adorned with vibrant flowers, colorful lights, and festive decorations.
These pandals serve as gathering points for devotees to offer prayers, seek Lord Ganesha's blessings, and immerse themselves in the festive spirit.
As Ganesh Chaturthi 2023 approaches, let's share warm greetings and heartfelt wishes with our loved ones:
1. "May Lord Ganesha's blessings empower you to conquer life's challenges."
2. "Wishing you a joyous Ganesh Chaturthi filled with smiles and celebrations."
3. "May Lord Vigna Vinayaka remove obstacles and fill your life with joy and success."
Also Read: Robbery and drugging shock: Former Minister's Ludhiana residence targeted
4. "Ganpati Bappa Morya! May Lord Ganesha bring luck and prosperity into your life."
5. "May your life be as vibrant as Lord Ganesha's decorations. Happy Vinayaka Chaturthi!"
6. "May Lord Ganesha bring peace and prosperity to your family this Ganesh Chaturthi."
7. "On this Ganesh Chaturthi, may you gain wisdom, courage, and prosperity."
8. "May this Ganesh Chaturthi bring devotion, joy, and togetherness to your family."
9. "May Lord Ganpati bless you and your loved ones. Happy Ganesh Chaturthi!"
10. "May obstacles vanish and happiness and success fill your life as we welcome Lord Ganesha."
This festive season, may Lord Ganesha's blessings envelop you in peace, prosperity, and boundless joy.
Ganpati Bappa Morya!