Gigi Hadid's 2023 Met Gala look decoded; 'Beautiful black gown assembled with Karl's favourite things'
Gigi looked ravishing and beautiful at the same time in 'crafty & black' Givenchy gown at Met Gala 2023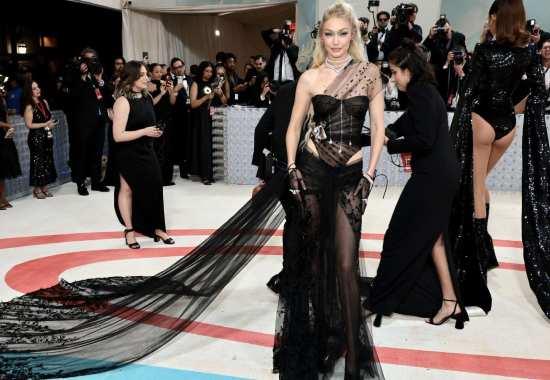 -

Supermodel Gigi Hadid stole the limelight from almost everyone and some even said that her fashion statement weighed more than the Jenners and Kardashians at the 2023 Met Gala. Making her eighth appearance, Gigi Hadid was a sight to behold at the 2023 Met Gala. Gigi looked ravishing and beautiful at the same time in 'crafty & black' Givenchy gown. Notably, Gigi arrived with her fashion designer Mathew who explained her look at 2023 Met Gala. Talking to Vogue on the sidelines of Met Gala red carpet 2023, Gigi's designer Mathew Williams explained, "This is a look we made inspired by some of Karl's favorite things. So, the drapes are inspired by fans something he really loved. Orchid was his favourite flower. Karl was looking forward, not so nostalgic. The craftsmanship is of Givenchy."

Following that Gigi further explained her look and said, "I think Karl would have loved this feather, floral embroidery. I think that's what's so fun about doing fashion. I feel like this is the intense version of that. Being designers to think outside the box, there is confirmation of what will sell this year. But everyone has their own interpretation. Something just to do it and create it."

Gigi was also asked about her Netflix fashion reality show Next In Fashion and how the show helped her evolve. Gigi answered, "It further solidified what I wanted to push on that show, which is like just be yourself and be unafraid. Go there and try something new. They were also like we were really inspiring. I think about all of them, they brought something new and fresh to the table. How they even came was inspiring aside from the designs."
gigi hadid at the #metgala pic.twitter.com/ZnD9aYsmHh

— ❦ (@thesoftestaura) May 2, 2023
Here's how fans reacted to Gigi Hadid's Met Gala 2023 look
A user informed, "gigi hadid wearing custom givenchy by matthew Williams"
gigi hadid wearing custom givenchy by matthew williams pic.twitter.com/XN28my1enh

— ❦ (@saintdoII) May 2, 2023
Another user wrote, "ladies and gentlemen, gigi hadid"
Alia Bhatt makes her Met Gala debut in a beautiful White Prabal Gurung Gown; Watch
ladies and gentlemen, gigi hadid pic.twitter.com/iIrVUKfVRy

— High End Homo (@highendhomo) May 2, 2023
Gigi Hadid and Kendall Jenner at #MetGala pic.twitter.com/bshCkXmmUk

— @23metgala (@23metgala) May 2, 2023
"Top 3 Met Gala looks- 1 Anne Hathaway 2 Gigi Hadid 3 Dua Lipa" wrote another user.
Top 3 Met Gala looks

1 Anne Hathaway
2 Gigi Hadid
3 Dua Lipa pic.twitter.com/U8LaEXKXw0

— Rumaysaa is Proud of Louis ×͜× (@cherrysuckers19) May 2, 2023