Gurugram: Man hits parked bike, drags it for over 3KM in the shocking viral video; Watch
The man ignored all the attempts by fellow commuters to stop him, people following in the vehicles behind recorded the entire chase as the sparks came blazing from the bike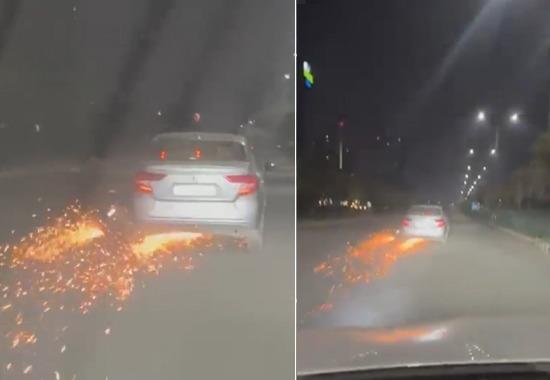 -

Gurugram Police has nabbed a man for dragging a motorcycle by his speeding car for more than 3 KM as the bike got underneath the man's car after he hit and was trying to flee the spot.

The man ignored all the attempts by fellow commuters to stop him, people following in the vehicles behind recorded the entire chase as the sparks came blazing from the bike.

A video of the Honda City car dragging the motorcycle in Sector 65 showing a lot of sparks flying also went viral on social media. Police contacted the owner of the motorcycle who filed a complaint.

Watch the Video Here:
गुरुग्राम - कार ने बाइक को 4 किलोमीटर तक घसीटा
सड़कों पर उठती रही चिंगारियां वो दौड़ाता रहा कार
सेक्टर 62 में बाइक सवार दो युवकों को मारी टक्कर #Gurugram pic.twitter.com/620e9POUUs

— Utkarsh Singh (@utkarshs88) February 2, 2023
The car first hit the motorcycle parked along the roadside and when the two-wheeler got stuck beneath it, the speeding vehicle dragged it for kilometres on Wednesday night, police said.
YouTuber Armaan Malik married for the THIRD time? Here's the truth of viral video
The motorcycle owner who happens to be a bouncer said the incident took place near about 11.30 in the night when he was returning home after his duty. He informed the media that he escaped narrowly as he was standing next to his motorcycle when the man hit his bike and dragged it for KMs.
The bouncer, Monu, further added that his motorcycle was badly damaged in the incident. Based on recent reports, the car driver fled leaving his vehicle behind after the motorcycle came out from under the four-wheeler and fell on the roadside.
The victim has registered a complaint with the police owing to the incident and taking cognizance of the matter the police have registered an FIR against the man under sections 279 (rash driving), 336 (act endangering life or personal safety of others), 427 (causing damage) of the Indian Penal Code at the Sector 65 police station.
Apprising the media over the matter Subhash Boken, spokesperson of Gurugram Police said, "We have arrested the accused identified as Sushant Mehta, a resident of Faridabad, and taken his car into custody. The accused is working with a private firm in Sector 63."