Published On
Here are the 5 Netflix series that you will undoubtedly become addicted to
Films in a range of genres have been produced thus far, including comedy, romance, action, biography, and thriller
Author :
Nishtha Jairath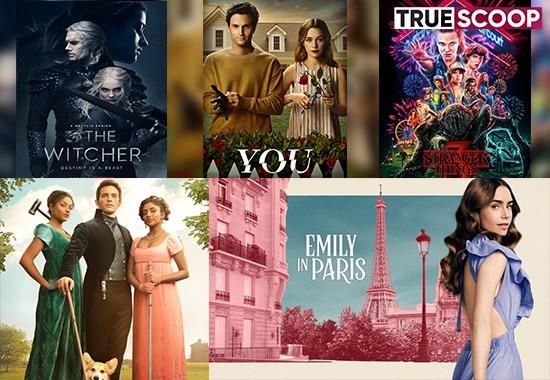 Similar to movies, several genres of movies and web series are now available on the OTT platform. Films in a range of genres have been produced thus far, including comedy, romance, action, biography, and thriller.
The weekend is about to hit, and if you haven't made any plans yet, don't worry. Here are some of the most popular shows to watch. Before you sit on your living room couch, have a look at these top five Netflix programs that you will undoubtedly become addicted to! Take a look:
Stranger Things:
The narrative of this series is around a little kid who goes missing in a small town, his mother, friends, and a police officer battling scary supernatural forces and dark government agencies to recover him. The series is divided into three seasons, each with 25 episodes of 51 minutes.
You:
There are several reasons why this show was a hit. Every single lady out there! Imagine a charmingly seductive and passionately obsessed man who goes to a great extent to enter your life? Isn't it both terrifying and fascinating? This program has three seasons and 30 episodes to watch.
The Witcher:
This series was based on a series of Polish fantasy books that were first turned into games and then into this live-action series. The narrative revolves around a Witcher, a semi-immortal assassin with magical abilities who is paid to slay different creatures. The program has two seasons, each of which has 16 episodes with a running time of 47 minutes.
Emily in Paris:
Ah! Emily runs a marketing firm in Paris where she applies her can-do American attitude, creative ideas, beautiful dress, and social media savvy. The series is completely based on the beautiful city of Paris. There's so much more to it, including fantastic fashion, great friendships, and confusing love life, that it's a great choice! You really can't miss out on this one. The series is divided into two seasons, each with 20 episodes.
Also Read: From 'Guilty Minds' to 'The Verdict', These 5 intriguing courtroom dramas are a must-watch on OTT
Bridgerton:
Bridgerton is a period drama set in Regency England. This drama follows the healthy Bridgerton family of the time and comes from the creators of how to Get Away with Murder, Grey's Anatomy, and Scandal. Season 2 premiered on March 25, 2022, and it's full of lust, betrayal, and money to keep you hooked. The series features 16 episodes and two seasons, each lasting 60 minutes.