House of the dragon finale episode: Prince Aemond blows war bugle & opens first chapter of 'Dance of the dragon'
House of the dragon episode 10 starts with Rhaenerya telling her son how 'We don't choose the destiny, but the destiny chooses us' over the queries that he might not be a good 'lord of the tides' or King of Drigtmark as his grandfather Lord Corlys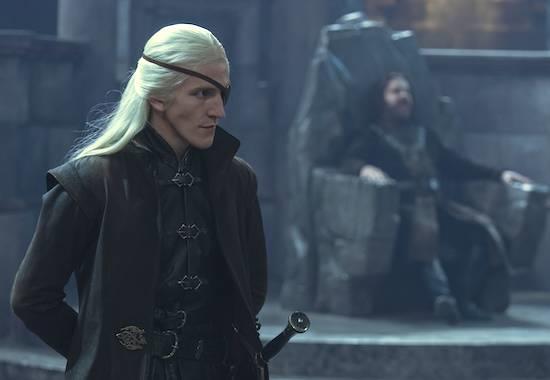 -

The much-awaited House of the dragon finale episode finally aired on Monday on Disney Plus Hotstar in India, leaving fans even more excited for its next season. House of the dragon season 1 concluded on Monday when the 'The Black Queen' episode worldwide and ever since then fans have been buzzing on social media for its next season or let's say to witness the 'Great Tragaryen War'. While House of the dragon season 1 was more focused on George RR Martin's book 'Fire and blood', it's next season will be based on 'A Dance with Dragons'. While Fire and blood showcased how the Targeryens unity and bloodline fell apart, 'A Dance with Dragons' will show how the ancient old dynasty perished due to infighting and war. Coming to the House of the dragon finale episode or let's say House of the dragon episode 10, 'The Black Queen' served as an epic buildup for the upcoming great war between Princess Rhaenerya and her stepbrother Prince Aegon (now King).

House of the dragon episode 10 starts with Rhaenerya telling her son how 'We don't choose the destiny, but the destiny chooses us' over the queries that he might not be a good 'lord of the tides' or King of Drigtmark as his grandfather Lord Corlys (Seasnake). In a matter of doing so, a guard informs Rhaenyra that Queen Rhaenys has arrived on the dragon's back and requests for an audience in presence of her and Prince Daemon. For the unversed, Queen Rhaenys had fled from the Aegon's crowning ceremony on her dragon Meleys. Rhaenys informs Raenyra and Daemon that her father King Viseys is no more and his stepbrother Aemond has been named as the King of the seven kingdoms. Furthermore, Rhaenys cautions Rhaenyra that the 'Greens are coming for you and your children'. Listening to this, Daemon asks why did not she burn all the traitors. Queen Rhaenys finally unveils the truth and to know what she said, True Scoop advises you to watch the House of the Dragon Episode 10 on Disney Plus Hotstar or HBO+.

Saddened by the news of her father's demise and infuriated with the treason of the Hightowers, Rhaenyra goes for pre-mature labor and as a result, she loses her child. However, one of the Kingsguard comes to dragonstone to deliver his father's crown and swears his allegiance to her. Soon, Otto Hightower arrives a the dragonstone with a proposal of peace and an offer to which Aemond refuses, however 'Queen' Rhaenyra tells him Otto that she will send her answer through a raven thinking about his old friend Queen Alicent Hightower. When Daemon asks Rhaenyra about this, she tell him that she does not wish to rule ashes as everything will burn if dragons go to war with each other. Furthermore, she also tells him about the dream of 'Song of Ice and Fire' which his father King Viserys had told her. Viseyrs' dreams were that the realm remains united to defeat the enemy in the north i.e. the Whitewalkers.

However, Lord Corlys bends his knees to Rhaenyra and says that his fleet will choke the trade of the Kings Landing and how it can force Aemond and Hightowers to surrender. Queen Rhaenyra then decides to remind everyone about their oath. To do so, his both sons decide to deliver the message themselves. Rhaenyra's son Lucerys Velaryon aka Luke flies to Lord Borros to remind him of his father's oath, however he found out that his uncle Aemond Targaryen was already there with his dragon Vhagar. While Lord Borros denies to Queen Rhaenyra's claim saying that Aemond has promised to marry one of his daughters, Aemond tries to instigate Luke for a fight or else given his one eye 'an for an eye'. Luke was escorted from the hall as he was an envoy, however, Aemond chased him on his hug dragon Vhagar. (Spoilers Ahead)

House of the dragon episode 9: 'The Queen who never was' steals the show with her 'pet' Meleys

While Arrax and Luke were searching for Vhagar in the clouds, the biggest dragon ate Arrax and Luke alive and tore them into pieces. Aemond did not intend for this to happen and only desired Luke's eye. Aemond's eye was cut off by Luke in one of the earlier episodes. As Luke and Arrax were killed by Aemond and Vhagar, it was officially the war bugle by the Hightowers.

Why Vhagar?

Both Aemond and Luke are less-experienced riders of the dragon. Vhagar took charge and ate Luke and Arrax. At one point in the series, Vhagar was the most-liked dragon. After the last episode of season 1, the tide has shifted and he has suddenly become the most-hated character of the show. King Viserys words, "The idea we control the dragons is an illusion" are also ringing true.