Published On
How did Danelo Cavalcante survive & evade the Police for 2 weeks? Prisoner who escaped Pennsylvania jail reveals
Danelo was serving life sentence in Pennsylvania jail on charges of brutally murdering his girlfriend in front of her two kids in 202. Author :
Malkit Singh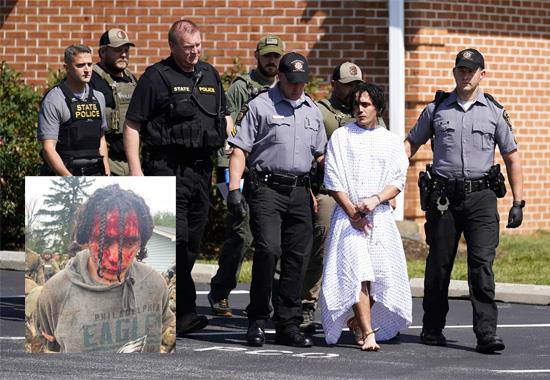 The two weeks of intense manhunt by the authorities of the United States finally came to an end when Danelo Cavalcante was recaptured in a wooded area. Danelo Cavalcante had escaped the high-security Pennsylvania jail and wanted to go to Canada and ultimately flee to Puerto Rico so that he could never be captured by the US Cops. Danelo was lodged in Pennsylvania jail on charges of brutally murdering his girlfriend. Danelo Cavalcante's escape gave a headache to the authorities as they were not able to locate him for at least 2 weeks. The seriousness of the situation can be understood as the cops had to install a thermal imaging camera in a plane which caught his body's heat and later the cop left the dog Yoda in order to stop him from fleeing once again to a wooded area. Now, the question arises how did Danelo Cavalcante maintain his low-profile from the Police and what did he eat without coming in the eyes of the CCTV cameras? Below is what Danelo Cavalcante revealed-
How did Danelo Cavalcante survive and evade the cops?
As per US media reports, the cops informed that Danelo Cavalcante after being caught informed the Police that he only moved around under the cover of nightfall. He crouched among thick vegetation to stay out of sight. He traveled along tree lines. When he saw lots of police activity nearby and helicopters overhead, he continued to sit down for long periods of time. In fact, he even buried his own fecal matter so cops could not detect him. The cops further informed them that Danelo informed them that he survived by eating watermelons which he found growing in the bushes. He drank stream water. He broke into houses to recover supplies. In one house, he stole some fruit. From another, a pair of boots. Early on in the escape, he obtained a backpack that had a single razor in it, which he used to shave his face.
For the unversed, Danelo Cavalcante, 34, was sentenced to life in prison without parole and was being held at Chester County Prison when he escaped on August 31 by crab-walking up two walls from an exercise yard, pushing through razor wire and running across a roof. He was set to be transferred to a state correctional facility soon. Danelo was convicted of stabbing his ex-girlfriend to death in front of her two young children in 2021 and was wanted for another murder in his home country of Brazil.
Watch Danelo Cavalcante escape video
Newly released video shows convicted murderer Danelo Cavalcante escape from the Chester County Prison exercise yard in Pennsylvania on August 31. He shimmys up the wall backwards. pic.twitter.com/Hh14NrxdiU

— Brian Entin (@BrianEntin) September 6, 2023
Also Read: Who are the three Real Madrid players? Footballers arrested for filming & sharing illicit video with teen
The beast that took down #DaneloCavalcante - good dog! pic.twitter.com/wdRFBLmHoQ

— ☆ Michelle After Dark ☆ (@MichAfterDark) September 13, 2023