Indian Government conducts Nationwide Test of Emergency Alert system; Did you receive any emergency alert on your phone today? Here's what it means
Mobile users receive test alert with a loud beep and flash message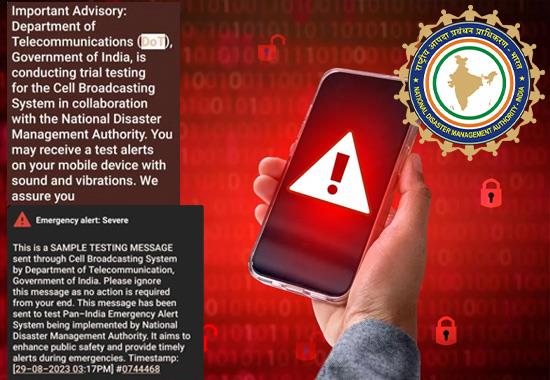 -

In a significant development, the Indian government conducted a comprehensive test of its emergency alert system, reaching smartphones across the nation. The test, organized by the National Disaster Management Authority (NDMA), aimed to evaluate the efficiency and effectiveness of the country's newly implemented emergency alert system.

The test alert

On Thursday, mobile users across India were surprised to receive a severe emergency alert from the government. This alert was part of a rigorous test to assess the capabilities of the emergency alert system. When received, the alert caused smartphones to emit a loud beep, accompanied by a flash message that displayed the words "emergency alert: severe."

Ensuring public safety

The Department of Telecommunication (C-DOT) spearheaded this test, sending flash messages to mobile users on various telecom operators across India. The message, sent between 12:00 and 12:44 PM IST through the Cell Broadcasting System, explicitly stated that it was a test and that no action was required from the recipients.

"Emergency alert: SEVERE... This is a SAMPLE TESTING MESSAGE sent through Cell Broadcasting System by the Department of Telecommunication, Government of India. Please ignore this message as no action is required from your end. This message has been sent to test Pan-India Emergency Alert System being implemented by National Disaster Management Authority. It aims to enhance public safety and provide timely alerts during emergencies. Timestamp: 15-09-2023 12:19 PM #0888758," read the flash message received by numerous smartphone users.

Also Read: Dancing girl video on Police vehicle sparks uproar; Jalandhar Div. 4 SHO sent to lines; Watch

Evaluating the alert system

The NDMA and the Department of Telecommunications intend to continue conducting similar tests periodically in various regions of the country. These tests serve the crucial purpose of assessing the efficiency and effectiveness of mobile operators' emergency warning broadcast capabilities and cell broadcast systems.

The primary objective is to enhance public safety by ensuring that timely alerts can be disseminated during emergencies.

This nationwide test underscores the government's commitment to bolstering emergency preparedness and improving its ability to communicate vital information to the public in times of crisis.