Jalandhar-Chintpurni highway compensation distribution scam : 42 new accused nominated for usurping Rs. 64 crore
Vigilance Bureau arrests 8 accused, search continues to arrest others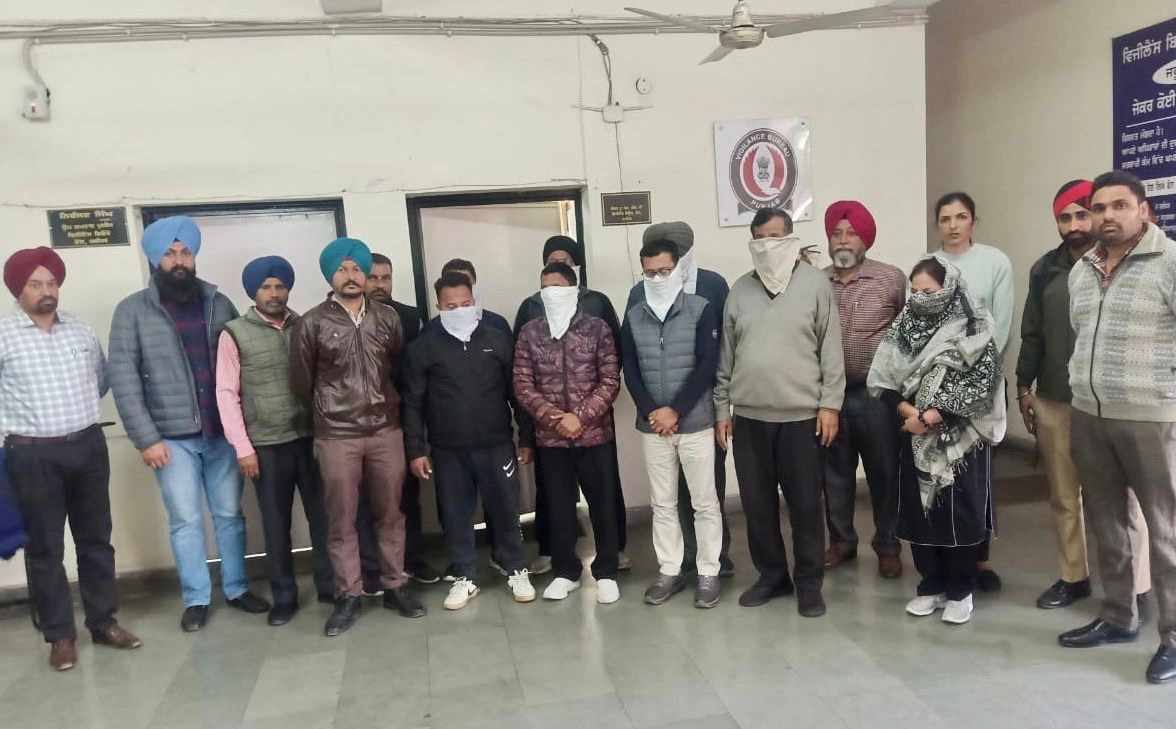 -

In a multi-crore scam regarding distribution of compensation worth crores of rupees for acquisition of land for Jalandhar-Chintpurni highway, the Special Investigation Team (SIT) of Vigilance Bureau, during its investigation, has found that a lot of record was found missing from the office of SDM Hoshiarpur and Tehsildar Hoshiarpur. It was also came to light that the then SDM Anand Sagar Sharma has fraudulently changed the draft 3-A schedule plan prepared by Louis Berger company, and illegally released compensation amounting to Rs. 64 crore to his known persons who purchased the land in the new road alignment in connivance with the said SDM. During the probe the Bureau has added another section 201 of IPC in this case and nominated 42 more new accused, out of which 8 accused have been arrested on Saturday.
Disclosing this here today, a spokesperson of the VB said that total of 13 accused including the then Anand Sagar Sharma SDM-cum-Collector and Land Acquisition Officer Hoshiarpur, Baljinder Singh Tehsildar Hoshiarpur, Manjit Singh Naib Tehsildar Hoshiarpur, Daljit Singh Patwari Village Khawaspur (Piplanwala), Parvinder Kumar, Patwari Village Khawaspur, Sukhwinderjit Singh Sodhi Registry Clerk, Devidas deed writer, Harpinder Singh Gill resident of Maharaja Ranjit Singh Nagar, Hoshiarpur, Satwinder Singh Dhatt and Avtar Singh Johal both residents of Mohalla Tibba Sahib Hoshiarpur and Jaswinder Pal Singh resident of Lilli Cottage, Sutehiri Road Hoshiarpur have already been arrested or joined investigation in this case registered under section FIR No. 01 Dated 10-02-2017 under section 420, 467, 468, 471, 120-B of the Indian Penal Code and 13(1) (d), 13(2) of the Prevention of Corruption Act at VB Police Station, Economic Offenses Wing, Ludhiana.
He informed that as per the order dated 05-04-2022 by the competent court of Special Judge Ludhiana for further investigation of this case, the Chief Director, Vigilance Bureau Punjab has constituted a three members SIT under the supervision of Rahul S, Director, Vigilance Bureau, in which Rajeshwar Singh, SSP, VB Range Jalandhar, Gurmeet Singh, SSP, VB Range Ferozepur and Suba Singh, SSP, VB, Economic Offenses WIng, Ludhiana were made members. During the investigation, it was found that the then SDM Hoshiarpur Anand Sagar Sharma has changed the highway alignment in five villages Khawaspur, Digana Kalan, Digana Khurd, Hardo Khanpur and Khasra of Bassi Jana/Chohli in schedule 3-A prepared by him which did not correspond to origin draft schedule 3-A prepared by Louis Berger Company after a survey.
The spokesperson further said that after receiving the said Schedule Draft 3-A from Executive Engineer PWD Hoshiarpur, the then SDM Hoshiarpur Anand Sagar Sharma was supposed to verify the documents recorded in it, but he kept the said draft schedule pending in his office for more than 4 months.
In the case, the said accused SDM Anand Sagar Sharma, has completely changed the Khasra numbers of the above five said five villages in the schedule 3-A for the notification. The above changed Khasra numbers were further published in notification 3D and 3G as well. The accused SDM, by taking false reports from his subordinate Patwari, has wrongly changed the nature of land from agriculture to residential/commercial and prepared a false variation certificate in this regard. Later, a total compensation amount of Rs. 286,36,13,620 from the central government was received by the said SDM, who with a criminal conspiracy, further conniving with the land mafia, has illegally disbursed compensation of Rs. 64,13,66,399 at the residential rates for the land which was published as agriculture land in the notifications 3A, 3D, 3G.

Giving further information, he said that during the investigation, it has also came to light that the accused Anand Sagar Sharma, while preparing Schedule Draft 3-A, conspired with his known persons with the intention of usurping the compensation amount to be given to the original land owners in exchange of the said five villages. After giving the confidential information to his close associates by the accused Anand Sagar Sharma, they further contacted the original land owners pertaining to that Khasras and purchased the lands from them in connivance with revenue officials. The owners of these khasra numbers had no idea that their land khasra numbers were recorded in the changed alignment of Schedule 3-A as no survey was ever conducted in the said area. During investigation it was found that total 54 registries were registered by revenue officers falling in the changed alignment pertaining villages Khawaspur and Hardo Khanpur after notification 3-A and till distribution of awards.
It is worth to mention here that the 40 applications submitted by the land owners under Section 3-C of the National Highway Act 1956 regarding the land acquired for the National Highway were received by Anand Sagar Sharma and sent to the respective Kanugos of Hoshiarpur, Nasrala and Premgarh through Tehsildar Hoshiarpur to get report. Despite the accused Anand Sagar Sharma did not received the reports on these 40 applications from Tehsildar Hoshiarpur, he separately took 4 applications under Section 3-C of the National Highway Act 1956 regarding the lands purchased by his known persons in village Khawaspur for his personal benefit. He got verified the said land and got false report directly from the concerned Patwari as an established colony on the said land, whereas the type of these lands was disclosed in the notification 3-D and 3-G as a 'Chahi' (cultivable) land.
During the latest investigation, in the said case the required records of the office of SDM Hoshiarpur and office Tehsildar Hoshiarpur was found missing and Section 201 of IPC was added and 42 more new accused were nominated in the said case. Out of the newly nominated accused by the Vigilance Bureau, 8 accused have been arrested on 18.11.2023.

In this case accused Pradeep Gupta, resident of Church Road, Civil Line Hoshiarpur, in connivance with accused Harpinder Singh, purchased 9 kanals 4 marlas land at village Khawaspur in the name of his sons Prateek Gupta and Amritpreet Singh for 6,63,39,000 at the colony rate and received compensation of Rs. 6,63,39,000 in the bank account of his son Pratik Gupta. Accused Sunny Kumar Nambardar resident of village Khawaspur, despite the fact that Surjit Singh was not present at the time of registry, in collusion with the accused, he falsely testified as Nambardar of that village. Accused Dalwinder Kumar resident of village Khawaspur involved in the conspiracy hatched by his acquaintance accused Harpinder Singh and stood as a buyer and registered land in the name of Harpinder Singh's acquaintances. Accused Hardeep Kaur, wife of Rupinder Singh Gill, resident of Guru Teg Bahadur Nagar, Jalandhar, conspiring with her husband and her brother-in-law accused Harpinder Singh, got registered 4 kanals and 17 marla land in her name and got compensation of Rs. 2,42,89,200 in her bank account. Accused Tajinder Singh, a resident of Kunj Extension, Jalandhar, ina conspiracy with his acquaintance Harpinder Singh and got registered 18 marla 1 sarsai land in his name and got Rs. 56,16,000 in his bank account. Accused Mohit Gupta, resident of Millerganj Overlock Road, Ludhiana transferred Rs. 27,00,000 out of the compensation amount to his account. Accused Ramji deed and document writer Tehsil Complex Hoshiarpur resident of village Maruli Brahmana in connivance with Tehsildar, Naib-Tehsildar, Registry Clerk and accused purchasers has deceived the real owners by writing and registering 31 registries. Accused Jaswinder Singh Patwari (now retired), revenue halka Digana Kalan, Digana Khurd and Hardokhanpur deceived the actual land owners and entered the transfer of the land purchased after the notification in connivance with the fraudster buyers.
He informed that these 8 accused would be produced in the local court on Sunday and police remand would be sought for further questioning. The Vigilance Bureau (VB) is conducting searches at the residences and other places to arrest the remaining accused who would be arrested soon.