Published On
#Jalandhar Ground Report: Deplorable roads dotting to city's biggest hospital & school putting lives into jeopardy
According to all the sources and documents approximately 407 crores have been spent on the construction of roads in Jalandhar, but still the condition of roads is really poor.
Author :
Guneet kaur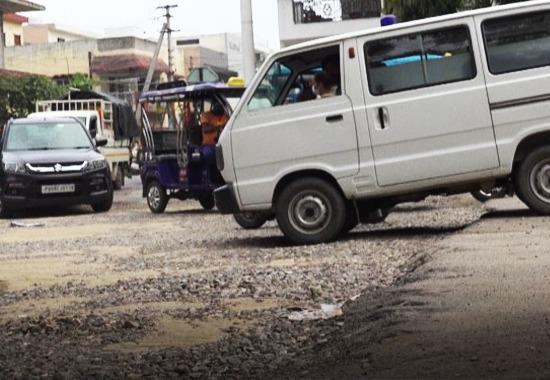 According to the sources, approximately 407 crores have been spent on the construction of roads in Jalandhar, but the reality of the roads contradicts the amount spent.
TrueScoop conducted a ground report on the condition of roads in Jalandhar and the problems that common people have to go through due to this.
Astha Singh, resident of Urban Estate said, "I face a lot of problems due to the poor condition of roads. It takes more than an hour for me to reach my office although it is not that far."
Aman Singh, a resident of Model Town said that people are facing problems because of the potholes. He has seen many accidents happening in front of his eyes.
People have requested the concerned authorities to solve this problem but in vain. No concern has been shown by the corporation to get the road constructed and solve the problem of the people.
Jalandhar instead of becoming a smart city has turned into a city full of potholes. The roads in the city have created a huge menace for the residents. As the condition of roads is deteriorating day by day it has given rise to problems like traffic, accidents, delay in reaching the destinations, etc.
When we discussed the issue with the Mayor, he said that no construction of the road that comes under his area is pending. He also mentioned that if any road in his area is not repaired or constructed till now, it is because of the rainy season.
Why should the people wait for monsoons to end? Can't the authorities find a solution to solve the problem they are going through on the daily basis?
No one can deny the fact that the roads of Jalandhar City are always in miserable condition, monsoon is just an excuse.