Published On
Jalandhar Police launches unique campaign: Traffic violators receive roses and road safety messages
A joint initiative by Jalandhar City police and legal authorities aims to spread awareness about traffic rules. Author :
Malkit Singh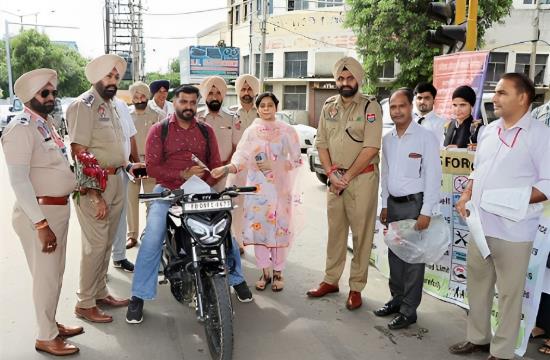 In a novel approach to tackle traffic violations and promote road safety, the Jalandhar City police, in collaboration with judicial officials, organized a special campaign at various intersections. This initiative, which took place today, was aptly named "No Traffic Challan Day."
Nirbhow Singh Gill, District and Sessions Judge-cum-Chairperson of the District Legal Services Authority (DLSA) in Jalandhar, inaugurated the campaign.
A dedicated team of paralegal volunteers, consisting of law students from six prestigious law colleges in the city, joined hands with the DLSA and the Traffic Police of Jalandhar to make this unique event possible.
Dr. Gagandeep Kaur, Chief Judicial Magistrate (CJM) and Secretary of DLSA, along with Kanwalpreet Singh Chahal, Additional Commissioner of Police (Traffic), emphasized the campaign's primary goal: motivating the general public to abide by traffic rules.
They stressed the importance of wearing helmets for all two-wheeler riders, highlighting how this simple act could save numerous lives. Instead of issuing fines, traffic violators were greeted with roses and encouraged to comply with the rules.
Also Read: Real vs Reel: Is 'The Vaccine War' a true story based on 'Made in India' COVID-19 vaccine Covaxin?
Dr. Gagandeep further elaborated that compensation was being provided to the dependents of individuals who lost their lives in road accidents where the responsible party remained unidentified. Families of the deceased can apply for compensation at the DLSA office in Jalandhar.
Notably, compensation was also being extended in cases related to rape, acid attacks, and offenses under the POCSO Act.
Those seeking free legal aid and compensation can either visit the DLSA office in Jalandhar or call the toll-free number 1968.
This unique and compassionate approach by the Jalandhar City police and judicial officials aims to foster a safer road environment and promote responsible driving behavior among citizens.