Johnny vs Amber: The US Trial; Johnny Depp's lawyer criticized over "Too Drunk or High to Attack Heard" remark in docuseries
In May, earlier this year, a jury ruled in favor of Depp in the high voltage court case proceeding that saw an extreme scenario for the two parties in prevalence, saying Heard has defamed the actor in an op-ed in 2018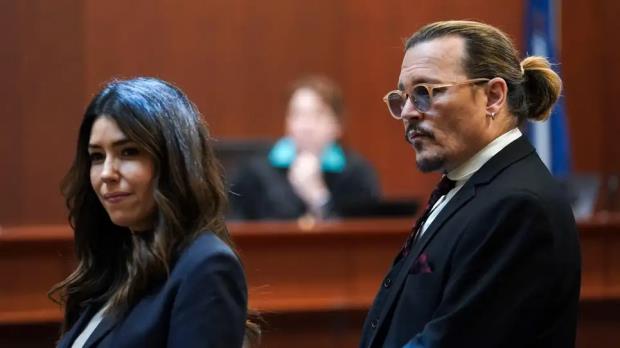 -

Months after receiving the verdict in Johnny Depp's defamation lawsuit against ex-wife Amber Heard there still exist several agonizingly stupid misogyny presented ahead by his legal team.

In the recently released two-part docuseries Johnny vs Amber: The US Trial, Depp's lawyer's comments claiming abuse can't happen when someone is "drunk or high."

Her full comments on that regard say, "That's one part of the case I've never understood," Vasquez said of Heard's testimony that Depp was physically violent while under the influence. "He's either drunk and high and incapable of even standing up, or he's drunk and high and able to attack her, chase her, land blows? It just doesn't make sense."

Through the case that came to the fore, the unsealed documents showed 2014 texts in which Depp and his former assistant apologized for the former's behavior while he was drunk.

Depp's assistant send a text to Heard that was widely reported to read, "If someone was truly honest with him about how bad it really was, he would be appalled. I'm sad he does not have a better way to really know the severity of his actions yesterday.

Unfortunately for me, I remember them in full, in full detail, everything that happened. He was appalled when I told him he kicked you, and he cried."

Pirates of the Caribbean star later texted Heard apologizing for his behavior and said he finds himself in a place of "shame and regret." In the text that came to the public, Depp has further assured of not repeating what has passed and said he felt bad for "letting her down."

Mexican Earthquake shakes capital with 6.8 magnitude strike days after deadly quake; Damages unknown

In May, earlier this year, a jury ruled in favor of Depp in the high voltage court case proceeding that saw an extreme scenario for the two parties in prevalence, saying Heard has defamed the actor in an op-ed in 2018.

The recently released two-part docuseries on Discovery Plus Johnny vs Amber: The US Trial put the much-talked defamation case of the celebrity couple on display.

The first part is centered around Depp's legal team. Since the proceedings were televised, there is nothing new in the series but one must watch those who haven't watched the high-voltage drama and how it unfolded.

Whereas, the second episode is presenting Heard's perspective, however, her legal team denied participating and mostly focused on the trial and subjected Heard and her supporters to a brutal harassment campaign.