Kalaastar Teaser Out: Sonakshi and Honey Singh to reunite after 9 years; Desi Kalakaar return with a new chapter
The much-anticipated sequel to the 2014 hit song Desi Kalakaar teases a gripping narrative.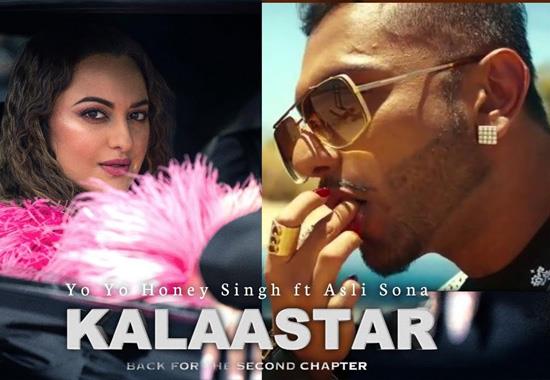 -

In a recent development that has sent ripples through both Bollywood and music enthusiasts, the teaser for Sonakshi Sinha and Yo Yo Honey Singh's upcoming music video, titled 'Kalaastar,' has been released.

This musical endeavor marks the second chapter in the saga that began with the 2014 sensation 'Desi Kalakaar,' offering a tantalizing glimpse into the evolving storyline.

The teaser unveiled

The newly unveiled teaser for this highly anticipated song video hints at a dramatic turn of events. It shows Yo Yo Honey Singh in a prison jumpsuit at Hudd County Jail in Texas, while an officer apprehends him, handcuffing him and leading him away.

Here's the comeback teaser:

The video then fast-forwards nine years, showing Honey Singh reuniting with a friend, still clad in the same attire that had led to his arrest. Curiously, they inquire about Sonakshi Sinha.

A Mysterious twist

Also Read: Jawan achieves global sensation status, crosses Rs. 1000 crore worldwide in merely 19 days

The teaser takes a twist when Honey Singh's friend reveals that Sonakshi Sinha is in Amsterdam and has been married for three years. This revelation prompts Honey Singh to express his desire to reunite with his beloved, exclaiming, "I want my girl back."

The teaser concludes with a suspenseful shot of Sonakshi Sinha brandishing a gun against Honey Singh's forehead, leaving viewers intrigued and eager for more.

Fan reactions pour in

As soon as the teaser dropped, fans took to social media to share their reactions. While some expressed excitement and anticipation for the music video, others speculated about the unfolding plot.

Honey Singh's close friend, Madhukant Sahgal, couldn't contain his enthusiasm and wrote, "Super-duper hit superstar!" Honey Singh responded playfully, saying, "Bro, this is your birthday gift."

Stay tuned for more updates as 'Kalaastar' continues to build anticipation in the music and entertainment world.