Jawan achieves global sensation status, crosses Rs. 1000 crore worldwide in merely 19 days
Atlee's action-packed spectacle creates history in Indian Cinema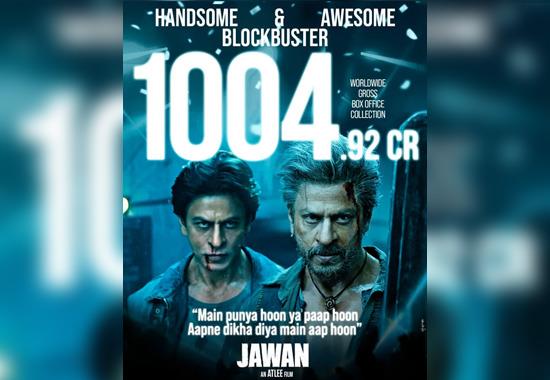 -

In an unprecedented feat that has left the Indian film industry and fans worldwide in awe, Atlee's magnum opus, "Jawan," featuring the stellar trio of Shah Rukh Khan, Nayanthara, and Vijay Sethupathi, has shattered all records by crossing the coveted Rs 1000-crore mark within a mere 19 days of its global release.

A record-breaking debut

Since its grand opening on September 7, "Jawan" has been nothing short of a cinematic phenomenon, drawing throngs of fans into theaters across the nation to witness the iconic return of King Khan. The film immediately set the box office ablaze, amassing an astounding ₹129.06 crore on its inaugural day, rewriting the record books in the process.

Jawan's Day 19 triumph & projections

As it enters its 19th day in theaters, "Jawan" continues to reign supreme at the box office. The film added an impressive ₹5.30 crore to its Indian collection, propelling its domestic earnings to a remarkable Rs. 566.08 crore.

Renowned industry insider Sacnilk provided detailed insights into the film's collections and occupancy rates, reaffirming its widespread appeal.

In Hindi-speaking regions, "Jawan" maintained an average occupancy rate of 13.70% throughout the day, with occupancy figures for different show timings as follows:

Morning Shows: 9.81%

Afternoon Shows: 11.99%

Evening Shows: 15.75%

Night Shows: 17.25%

The Tamil market witnessed an overall occupancy rate of 17.16%, with show-specific figures as follows:

Morning Shows: 11.36%

Afternoon Shows: 19.46%

Evening Shows: 17.58%

Also Read: After customized Raghav-named dupatta, Parineeti's wedding Kaleeras become a sweet ode to her love story with Raghav

Night Shows: 20.23%

In Telugu cinemas, "Jawan" recorded an impressive 16.93% occupancy, with show-specific figures as follows:

Morning Shows: 15.54%

Afternoon Shows: 17.06%

Evening Shows: 15.43%

Night Shows: 19.67%

Global domination

On the global stage, "Jawan" has etched its name in the annals of cinematic history by surpassing the monumental Rs.1000-crore mark, amassing a staggering Rs.1004.92 crore within just 19 days.
This historic milestone was officially announced through Red Chillies Entertainment's Instagram handle, featuring a video message from the charismatic Shah Rukh Khan himself.
About 'Jawan'
'Jawan' is a high-octane action thriller that not only stars Shah Rukh Khan but also boasts an ensemble cast featuring Nayanthara, Vijay Sethupathi, and a special appearance by Deepika Padukone.
The film also showcases talents like Sanya Malhotra, Sanjeeta Bhattacharya, Lehar Khan, Ridhi Dogra, Priyamani, Girija Oak, Aaliyah Qureshi, Sunil Grover, and Mukesh Chhabra, with the versatile Sanjay Dutt among others in pivotal roles.
As the "Jawan" juggernaut shows no signs of slowing down, it continues to captivate audiences and create ripples of excitement throughout the global film industry.