Published On
Karachi Joker Viral Video: Man dressed as clown leaves netizens stunned & spellbound; Watch
The Karachi joker viral video was filmed when a popular Pakistani YouTuber Ahmed Khan spotted the man dressed as a clown on the streets of Karachi
Author :
Malkit Singh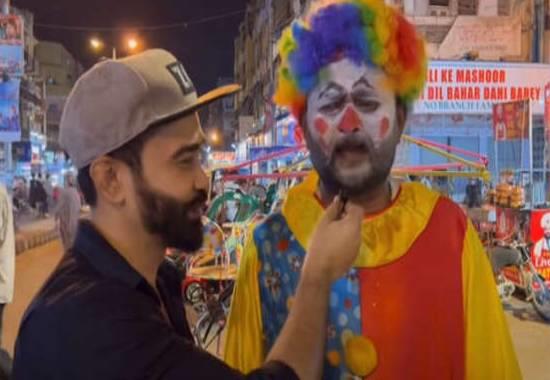 The saying 'Talent can be found anywhere and in anyone' turned literally true after Karachi Joker Viral Video started doing rounds on social media. The Karachi clown
viral video
has stunned the netizens on social media as the man dressed as a joker impressed all by his soulful singing skill. Social media is the perfect place where anyone's talent gets acknowledged and they go viral in no time. There are many examples are present in the public domain be it Renu Mondal or Baba ka Dhaba, internet never disappoints. Now, a man dressed as Joker from Pakistan has joined the list.
In the Karachi Viral video, netizens can watch a man dressed like a joker singing melodious songs of Sonu Nigam and Rahat Fateh Ali Khan. Those who are still wondering about the Karachi Clown viral video can read further:
The Karachi joker viral video was filmed when a popular Pakistani YouTuber Ahmed Khan spotted the man dressed as a clown on the streets of Karachi, he stopped to wonder what he was doing. When asked, the Joker replied that he was just trying to make children laugh and earning an honest living. However, when asked if the joker had any tricks up his sleeves. What followed next is what won everyone's heart and made him an overnight sensation.
To the question about the tricks, the Karachi Joker replied that he likes to sing. On being asked to sing, the Karachi clown sang emotional numbers like 'Abhi Mujh Mein Kahin' by Sonu Nigam from Agneepath and Arijit Singh's 'Khamoshiyan', asked if he could sing a song by a Pakistani singer, he opted for Zaroori Tha by Rahat Fateh Ali Khan.
Mesmerized by the soulful voice of the joker, the YouTuber asked why he has not tried any singing reality show. To that, he explained that he has to earn a living to support his children. However, the YouTuber urged the joker to follow his dreams and revealed his name as Arif Khan.
Watch Karachi Joker Singing Viral Video