Karan Sangwan Video: Fired Unacademy teacher gets Delhi CM Kejriwal's public support
The teacher named Karan Sangwan courted controversy when he uploaded a video on his YouTube channel in which he was seen asking students to vote for an educated leader rather than people who only change names in the upcoming 2024 General Elections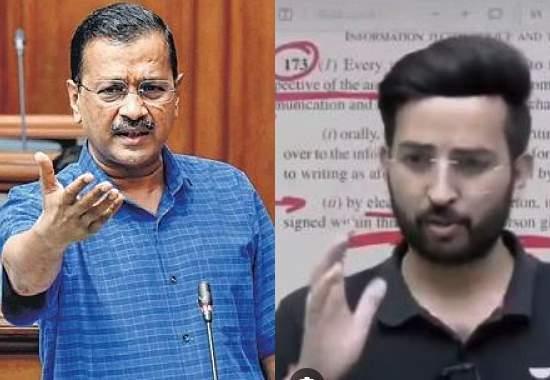 -

On Thursday, the Online Ed-tech platform Unacademy came under the scanner of social media after as a section of people slammed after a teacher passed a political remark without anyone. The teacher named Karan Sangwan courted controversy when he uploaded a video on his YouTube channel in which he was seen asking students to vote for an educated leader rather than people who only change names in the upcoming 2024 General Elections. Notably, a section of social media pointed out the fact that the saying of Karan Sangwan matched to what Aam Aadmi Party (AAP) Supremo Arvind Kejriwal has been repeatedly appealing to the people. Sangwan's 'changing name' somehow points out the fact that he was urging his students to not vote for the BJP in the upcoming 2024 Lok Sabha Elections. As a result, netizens threatened to uninstall Unacademy. As a result, Karan Sangwan was fired by Unacademy for breaching 'code of conduct'.

Meanwhile, Karan Sangwan's video is spreading like wildfire and Delhi CM Arvind Kejriwal has come out in support of the 'sacked' teacher. In the video, Karan Sangwan can be heard saying, "Even I don't know whether to laugh or cry because I also have a lot of bare acts, caseloads, and notes that I had prepared. It is hard work for everyone. You also got a job at your hand..But keep in mind one thing. Next time vote for someone who is well-educated so you don't have to go through this (ordeal) again. Ok?" He further added, "Elect someone who is educated, who understands things. Don't elect someone who only knows changing names. Make your decision properly."

Karan Sangwan was making this remark in the context of Union Home Minister Amit Shah's move to replace colonial-era IPC, CrPC and Indian Evidence Act. He lamented that all the notes he had prepared on criminal laws became worthless. For the unversed, during the 2023 monsoon session, Union HM Amit Shah tabled three bills that will replace the Indian Penal Code (IPC) with the Bharatiya Nyaya Sanhita, 2023, Code of Criminal Procedure (CrPC) with the Bharatiya Nagarik Suraksha Sanhita and the Indian Evidence Act with Bharatiya Shakshya Bill.

Who is Karan Sangwan?

Going by his LinkedIn Profile, Karan Sangwan studied at National Law University, Shimla. Following that Karan worked at C. R. Law College, Hisar for about a year. Thereafter, he had been an educator at Unacademy since February 2020 and has 14,000 followers on the platform. Notably, Karan also runs a YouTube channel called Legal Pathshala with over 45,000 subscribers.

What Delhi CM Arvind Kejriwal said about Karan Sangwan Video?

Replying to a post on Karan Sangwan's remarks, Delhi CM Arvind Kejriwal questioned that asking for votes for an educated leader is wrong? He went on and said, "If someone is illiterate, personally I respect that. But public representatives cannot be illiterate. This is the age of science and technology. Illiterate public representatives can never build a modern India of the 21st century."
क्या पढ़े लिखे लोगों को वोट देने की अपील करना अपराध है? यदि कोई अनपढ़ है, व्यक्तिगत तौर पर मैं उसका सम्मान करता हूँ। लेकिन जनप्रतिनिधि अनपढ़ नहीं हो सकते। ये साइंस और टेक्नोलॉजी का ज़माना है। 21वीं सदी के आधुनिक भारत का निर्माण अनपढ़ जनप्रतिनिधि कभी नहीं कर सकते। https://t.co/YPX4OCoRoZ

— Arvind Kejriwal (@ArvindKejriwal) August 17, 2023
Also Read: Sion Railway Station Video: Man falls on track after being slapped by husband on suspicion of misbehaving with wife, crushed to death
On the other hand, Co- founder of Unacademy Roman Saini on a detailed statement wrote, "We are an education platform that is deeply committed to imparting quality education. To do this we have in place a strict Code of Conduct for all our educators with the intention of ensuring that our learners have access to unbiased knowledge. Our learners are at the centre of everything we do. The classroom is not a place to share personal opinions and views as they can wrongly influence them. In the current situation, we were forced to part ways with Karan Sangwan as he was in breach of the Code of Conduct."
We are an education platform that is deeply committed to imparting quality education. To do this we have in place a strict Code of Conduct for all our educators with the intention of ensuring that our learners have access to unbiased knowledge.

Our learners are at the centre of…

— Roman Saini (@RomanSaini) August 17, 2023
Watch Karan Sangwan's video
Karan Sangwan from Unacademy urged his students not to vote for an illiterate person next time.

Bhakts abused him saying that he is targeting Modi.

Reportedly, he has been terminated from Unacademy for sayings what's right.

Shocking if true. pic.twitter.com/XV2j8CekTm

— Nimo Tai (@Cryptic_Miind) August 17, 2023