Madhura Naik, an actor, and model, has described why she decided to upload a caricature of herself in a bikini in response to the vulgar messages she receives online.
Madhura uploaded the photo with the caption, "For all those CREEPS who keep asking me for bikini posts on my Instagram! Here it is, love ya!"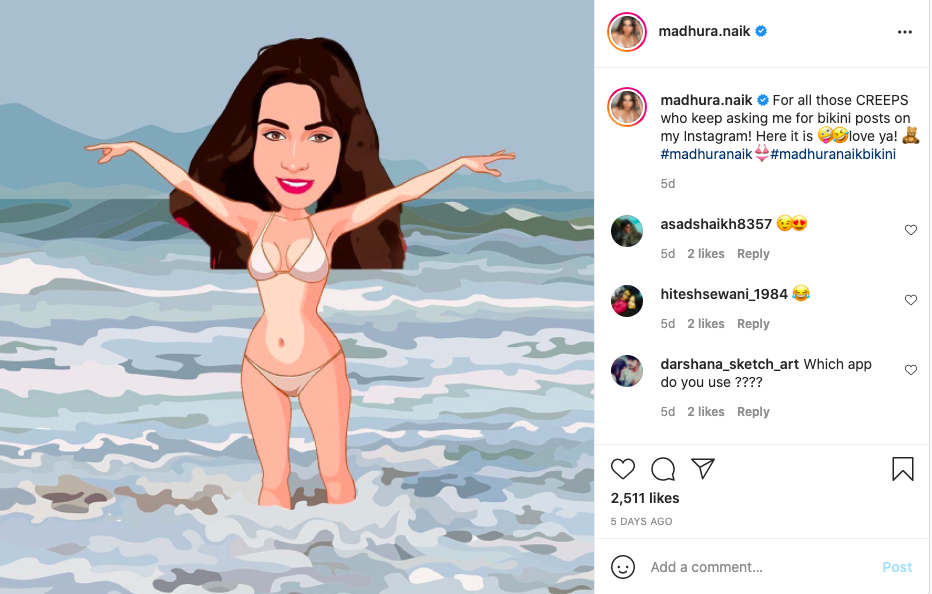 Madhura revealed in an interview that she has been mocked for everything from the food she eats to the clothes she wears. She said that she was once attacked for fishing, claiming that it had offended vegetarians.
She stated, "Such messages from creeps exist in my DMs and inbox. I don't react to such messages, I don't read them. So I just wanted to share this bikini photo with them all. I get a lot of these notes, and I'm disgusted by the people who send them and what they write. It makes me wonder if they would still say such things if they were face to face."She said.
She claims that the trolling doesn't disturb her, but that she must be cautious about what she posts.
Also Read: 'The Family Man 2' review: Manoj Bajpayee Shines as the TASC Agent, Samantha acts as the real lethal weapon

"It has no psychological effect on me, but it makes me wonder what would happen if this person were in front of me. Would that person have the courage to tell me face to face what he has been writing to me in private? It's really simple to hide behind the phone. It is only for cowards."

Madhura has starred in programs like Kasautii Zindagii Kay 2, Uttaran, and Naagin.In Kasautii Zindagii Kay 2, she had a brief role where she played Navin's girlfriend. She also co-hosted the reality show Superdude, in which Ashmit Patel gave advice to young men on how to win women's hearts.