Khufiya OTT release date: When & where to watch Ali Fazal-Tabu starrer spy-thriller movie online?
Unraveling the intrigue: Khufiya - A tale of spies and secrets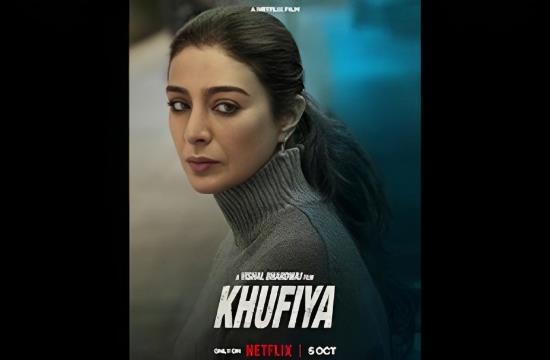 -

Meet the star-studded cast of "Khufiya"

"Khufiya" is set to take Bollywood by storm with its gripping narrative and stellar cast, including Tabu, Ali Fazal, Wamika Gabbi, and Alex O'Neal in lead roles, supported by Ashish Vidyarthi, Ajmeri Haq Badho, and Shataf Figar.

A tale of spies and secrets

Directed by the acclaimed Vishal Bhardwaj and produced under the VB Pictures banner, "Khufiya" draws its inspiration from Amar Bhushan's detective book, "Escape to Nowhere." The film delves deep into the world of intelligence operatives and their relentless pursuit of justice.

If you haven't seen the trailer yet, watch the trailer here:

Exclusive Netflix streaming

In a bold move, the film's distribution and streaming rights were acquired by Netflix in 2022, marking a significant shift in the way movies reach their audience. This direct-to-OTT release strategy has created a buzz among fans and cinephiles alike.

Mark the calendar: October 5, 2023

The wait is almost over! Circle October 5, 2023, on your calendar as "Khufiya" is all set to premiere on Netflix. The announcement on September 14, 2023, sent fans into a frenzy, eagerly anticipating the film's release.

Plot: A spy's dual identity

Also Read: Real vs Reel: Is Khufiya a true story based on RAW's 'black-sheep' Rabinder Singh?

The movie follows the story of Raw operative Krishna Mehra, portrayed by the exceptional Tabu. She is tasked with the mission of uncovering a mole who is selling India's defense secrets. Krishna must grapple with her dual identity as a spy and a lover, adding layers of complexity to her character.

Unmasking secrets and shadows

The story revolves around Krishna Mehra's perilous journey to unmask the elusive mole threatening national security. As she navigates a web of intrigue, she must also confront her own past and vulnerabilities. Will she triumph over her adversaries, or will she succumb to the dangers that lurk in the shadows?

How to stream 'Khufiya' on Netflix

For those eager to dive into this thrilling saga, here's how to access it on Netflix:

• Download the Netflix OTT app or visit the Netflix website.

• Register or log in with your credentials.

• Navigate to the home page and browse the latest releases.

• Use the search bar to find "Khufiya."

• Select your preferred language and hit "Play Now" to embark on this cinematic adventure.