Published On
Real vs Reel: Is Khufiya a true story based on RAW's 'black-sheep' Rabinder Singh?
The answer is yes. Khufiya is a true story based on Amar Bhushan's espionage novel Escape to Nowhere which claims to be a fictional book but matches Rabinder Singh's infamous saga. Author :
Malkit Singh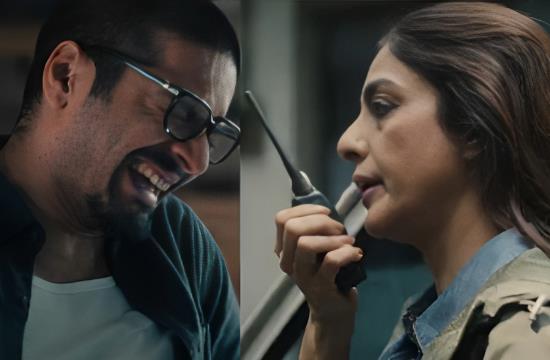 National-award-winning film-maker, Vishal Bharadwaj is all set to make his comeback with a bang. While Charlie Chopra & The Mystery Of Solang Valley is slated to be released on Sony Liv on September 27, 2023, Khufiya will be released on Netflix on October 5, 2023. Notably, Charlie Chopra & The Mystery Of Solang Valley is a web series and Khufiya is a movie and both are made by veteran filmmaker Vishal Bharadwaj. Vishal Bharadwaj-directorial Khufiya's trailer was released on Monday and ever since then, fans have been going gaga over the intense storyline. Khufiya is an espionage-thriller that features Tabbu, Ali Fazal, Wamiqa Gabbi, Ashish Vidyarthi, Azmeri Haque Badhon, and more in the leading roles. Since there is mention of India's secret service RAW and America's Secret Service CIA in the trailer of the upcoming movie, the question arises whether Khufiya is a true story or Khufiya is a real story or not? To know the answer continue reading-
Is Khufiya a true story?
The answer is yes. Khufiya is a true story based on Amar Bhushan's espionage novel Escape to Nowhere. Although Amar Bhushan's espionage novel Escape to Nowhere claims that it is a fictional story, the makers of Khufiya say otherwise. Going by the trailer, Khufiya revolves around Ali Fazal who works for RAW. However, he came under the scanner of India's Secret Service when he was caught carrying copies of secret and sensitive documents outside the office. As per Amar Bhushan's novel, the story is inspired by a traitor, his spying career, how he came to be suspected, how RAW's counter-espionage unit mounted major surveillance on him, how the civilian brass at the highest level wanted the surveillance ended because they did not want anything to spike India-US ties, how the committed ones in RAW continued to keep a watch on the spy, and how, sadly, he got away via Nepal.
Why does the book call itself fictional?
As per reports, the writer used a fictional name in his novel. In the novel, Rabinder Singh is Ravi Mohan in the book by Amar Bhusan. The then RAW chief, C.D. Sahay, is Wasan. Talking about Khufiya's true story, the man in question is Rabinder Singh, a former Joint Secretary of the Research and Analysis Wing (R&AW). For those who don't know, Rabinder Singh was an Indian civil servant and military officer. He reportedly defected to the United States in 2004.
As per the information available, in the book titled 'In Mission R&AW', written by a former R&AW officer, it is claimed that Rabinder Singh flew to America from Kathmandu along with his wife on 7 May 2004 using a fake identity in the name of Mr. and Mrs. Rajpal Prasad Sharma. The R&AW unit at Kathmandu did nothing despite clear intelligence on Singh's escape plans. The book further alleged that R&AW got a hold of Rabinder's passport which was allegedly issued by the CIA. Notably, Rabinder was accused of passing secret information to a foreign country, the U.S. to be exact.
In 2007, in an affidavit submitted to the court, R&AW claimed that Singh was traced to New Jersey. The agency further suggested that Singh filed for asylum in the US, under the name of Surenderjeet Singh, that was rejected by the trial court but remanded back for reconsideration by the court of appeals. Finally, in 2016, it was reported that Rabinder died in Maryland in the USA in a road accident in late 2016. The tainted R&AW officer was living in U.S. as a refugee. Also, Rabinder was facing a financial crisis after the CIA had stopped paying him money.
Also Read: Is Charlie Chopra & The Mystery Of Solang Valley a true story? All about Vishal Bhardwaj's series
If you don't know him, then you are a traitor.
Rabinder singh
Ex Joint secretary RAW/RA&W. pic.twitter.com/XwuRLYZu6t

— Kabira Speaking🚩 (@KabiraspeakingK) September 3, 2022
Watch Khufiya Trailer