Published On
Know Jagdeep Dhankhar's biography, early life, and the story of his accidental entry into the politics
Biggest tragedy of Dhankhar's life was the death of his 14 year old son in 1994 due to Brain Haemorrhage
Author :
Ujjwal Samrat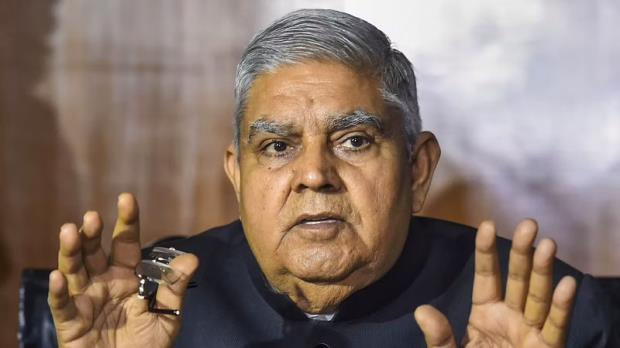 200 KM away from Jaipur in the Jhunjhunu district of Rajasthan there is a small village, Kithana, home of NDA vice presidential nominee Jagdeep Dhankhar.
Jagdeep Dhankhar is deeply rooted in his village during his term in the office as the governor of West Bengal he had been to his village several times. Jagdeep Dhankhar has three siblings, elder brother Kuldeep Dhankhar, younger Randeep Dhankhar, and sister Indra.
Jagdeep is second of them. Jagdeep Dhankhar was a bright student from the beginning and was equally a fun-loving character. Stories from his childhood say his hands were always painted with pen ink and at times also used to color his friends with it. His intelligence and hard work always made him the best among his peers.
Dhankhar was a sports junky. He used to play football with a ball made out of old and used clothes, with his friends. Studying in his village school for a few years Dhankhar then shifted to Chittorgarh to continue his further studies at Sainik School.
After passing out of Sainik School he completed his graduation from Physics and later took a law degree and started practicing as a professional soon in the short span of his legal career he was counted among the top advocates in the region.
Jagdeep never wanted to join politics. He had connections with politicians upon whose proposal he successfully contested the 1988-89 general elections from Jhunjhunu and was nominated as the cabinet minister in his first ever term in the parliament.
Jagdeep Dhankhar lost his son Deepak at the young age of 14 in 1994 when he was diagnosed with a brain hemorrhage. Deepak was studying at Mayo School in Ajmer. This was the biggest loss of his life. Jagdeep however, gathered his emotion and stood for his family in the tough time.
Jagdeep Dhankhar's achievements are celebrated in his village. Talking to the media the principal of the school where Dhankhar took his primary education expressed her pleasure in Dhankhar's achievements and termed it as a source of motivation for generations to come.
Dhankhar never misses any opportunity to visit his school and interact with children whenever he comes to the village. Dhankhar's wife Sudesh Dhankhar is equally social and frequently appears in the public.
Dhankhar's victory in the vice presidential election scheduled tomorrow is inevitable. Which is what the villagers of Kithana also think. Upon Dhankhar's first visit to the village after he was nominated the governor of West Bengal he worshipped at the Balajee temple in a nearby village.
Reports have emerged showcasing a grand preparation religious congregation in the village to celebrate Dhankhar's victory. Whereas some from the village are planning to visit Delhi upon his victory.
Jagdeep Dhankhar is up against Margaret Alva of congress who is the UPA nominee for the Vice Presidential election scheduled for tomorrow. The announcement of the results will also be made later in the evening tomorrow.
The winner will take over the charge from incumbent M. Venkaiah Naidu as the 14th Vice President of the country whose term ends on August 10th.