Published On
Lawrence's criminal record: Entry into crime world in April 2010, 36 cases in 12 years in 5 states including Punjab
Gangster Lawrence entered the world of crime in April 2010.
Author :
Chanderveer Singh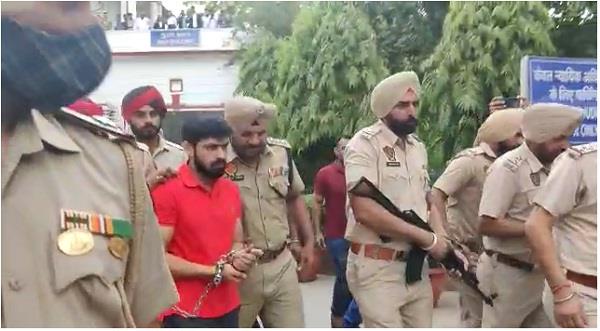 Gangster Lawrence entered the crime world in April 2010. After that in just 12 years, 36 cases were registered against Lawrence in five states. He has been acquitted in nine of these cases. He has been convicted in six cases. The court is hearing the remaining 21 cases.
After the case was registered, Lawrence's fears spread to Punjab, Haryana, Rajasthan, Chandigarh, and Delhi. Lawrence, who is lodged in Tihar Jail, has been brought to Punjab by Punjab Police for questioning in connection with the murder of Punjabi singer Sidhu Moosewala. For which Lawrence's dossier was also prepared.
The highest number of cases against Lawrence is in Punjab
In 2010, three criminal cases were registered against Lawrence in Chandigarh and Mohali. The cases involved illegal weapons and attempted murder. Lawrence was acquitted in April 2010 in two cases registered in Chandigarh. He was convicted in October 2010 in Mohali. Punjab has the highest number of 17 cases against Lawrence. Of these, 6 cases are in Fazilka. Lawrence is a resident of Dutrawali village in Fazilka. There are 7 cases against Lawrence in Mohali, 2 in Faridkot, and 1-1 in Amritsar and Muktsar.
Crime in Chandigarh and Rajasthan too
There are 7 cases registered against gangster Lawrence in Chandigarh. Lawrence has also been the President of the Students Union (SOPU) of Panjab University in Chandigarh. There are six cases against Lawrence in Rajasthan, four in Delhi, and two in Haryana. He is facing serious charges of murder, contract killing, robbery, and extortion. On September 10, 2021, Jaipur police registered a case of extortion and threats against Lawrence.
Close allies to gangster Lawrence
Lawrence is lodged in Tihar Jail. Many of his close gangsters are with him in carrying out this incident. The closest is
Canadian Goldy Brar. He is also close to Sampat Nehra, Kali Rajput and Kala Jathedari lodged in Tihar Jail. Apart from these, Deepak Tinu and Raju Basodi are also his partners.
The villagers don't talk about Lawrence
Lawrence's village is Dutranwali in the Fazilka district of Punjab. After Lawrence became a criminal, the villagers did not talk much about him. The people in front of the camera say only good things about Lawrence. No one even gives their home address. People around are also afraid to talk. People say he used to study in Chandigarh, so they don't know much about him.
8 cases were registered against Goldy Brar
Eight cases have been registered against Satinderjit Singh alias Goldy Brar, who took responsibility for the Sidhu Moosewala murder case. In November 2020, a case of attempted murder was registered against Goldy in Faridkot. A case of murder of Congress leader Gurlal Singh Pehalwan of Faridkot on November 18, 2021, has also been registered against him. A case has been registered against Goldy Brar for supplying arms and demanding ransom. Goldy Brar went to Canada in 2017 on a student visa. Recently, on the recommendation of the Punjab Police, the CBI issued a red corner notice against him.