Published On
LPU student suicide: NIT Calicut's clarification- boy could not clear the course, so had to leave the institute
The professor gave the clarification following the lodging of a suicide-abetting case against him
Author :
Samriti Bharadwaj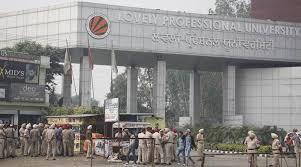 The director of NIT Calicut, accused in the student suicide case in the hostel of Lovely Professional University located in Jalandhar, has given his clarification. He has included some explanations for Agin quitting NIT Calicut in a letter that also expresses his tremendous sadness about the loss of the youngster.
The professor gave the clarification following the lodging of a suicide-abetting case against him at the Phagwara police station (Kapurthala). He said that Agin was a B.Tech student at NIT Calicut. In the year 2018, he applied to the institute. Agin took the course for four years, however, he failed a few of the first- and second-year courses.
He stated that despite being in his final year of study in June 2022, Agin was unable to pass 10 first- and second-year courses. In accordance with the institute's rules, Agin had used all of the chances provided to him to pass the course, but he was still unable to do so. The third and fourth-year courses of B.Tech were also pending.
In such circumstances, he had no choice but to leave his B.Tech studies at NIT Calicut as per the educational rules of the institute. Agin wrote a letter to his department asking to be permitted to complete the course after his chances were over. His request from the department was sent to the DCC committee for consideration.
The committee, in its decision, did not allow Agin and said that if Agin is allowed then it will be against the educational rules of the institute. Agin and his father then met Director in his office after this. Two committee members were also present in the room when Agin and his father met.
Jalandhar: Civil hospital's staff furious over non-action on MLA Angural's brother; says- Will stop the work if FIR is not filed
He had told Agin that he had used all of his opportunities to pass the course. Agin had stated that he wanted to take a different design course at this time. He has no interest in computer science. The director said that he had encouraged Agin and told him to do whatever he wants with passion.
After this, Agin along with his father also met the faculty advisor. He also told them that according to the rules, he can neither change the course nor can he get any extra chances. Agin's father told him that he would get his son admitted to some other institute to get the course as per his wish.
Director said that he came to know about Agin's suicide in Punjab's Lovely Professional University hostel after the media reports. He also learned of Agin's pursuit of a design course at Lovely Professional University through the media.