Published On
Madhya Pradesh: After 'sar tan sey juda' message, Oriental College Btech student found dead at Railway track
Nishank Rathore, a third-year Btech student, of Oriental College in Bhopal. was found dead a day after his father received a message saying, 'Gustakh-e-Nabi ki ek saza, sar tan sey judaa.'
Author :
Malkit Singh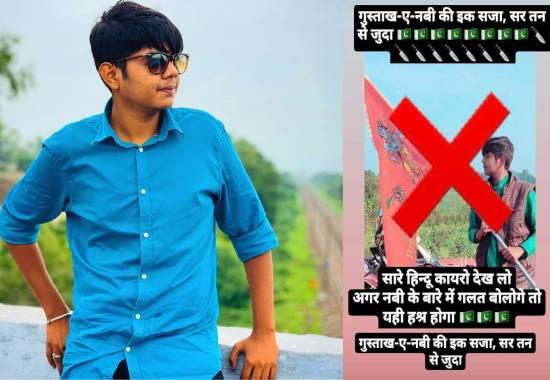 In yet another blood-boiling incident, a Btech student named Nishank Rathore was found dead on railway tracks near Obaidullaganj town in Madhya Pradesh's Raisen district. Nishank Rathore, a third-year Btech student, was found dead a day after his father received a message saying, 'Gustakh-e-Nabi ki ek saza, sar tan sey judaa.'
Reportedly, Uma Shankar Rathore, father of Nishank, received 'Sar tan Sey Juda' message on Sunday, and following that he tried to trace and contact his son. However, Uma Shankar could not trace his son as Nishank was missing from his hostel room. Later, Nishank Ratore's dead body was recovered from the railway tracks in Raisen district of Madhya Pradesh.
As per IG Suri, Nishank Rathore's post-mortem report suggest that he died because of coming before a moving train. As per the India Today report, IG Suri said, "We have traced his movements through CCTV cameras right from the time he left his room in Bhopal. At 5.09 pm he was spotted at a petrol pump and he was not accompanied by anyone. The post-mortem has revealed that he died because of coming before a moving train."
Reportedly, apart from studying, Nishank was also involved in cryptocurrency, and the share market, and had suffered massive losses. It is pertinent to mention here that Nishank's friends and family got the 'Sar Tan Sey Juda' message from his phone hinting that he was trying to say something.
Notably, in the past few months, Taliban-style murders in the name of blasphemy are on the surge. Following Nupur Sharma's remark on Prophet Mohammed, the incident of 'Sar Tan Sey Juda' means beheading those who disrespect Prophet Mohammed (Nabi) has been increased. Be it murder of Kanhaiya Lal in Udaipur in broad daylight, the murder of Umesh Kolhe, and dozens of threats against individuals who supported Nupur Sharma. In all the gruesome murders, the message is the same 'Gustakh-e-Nabi ki ek saza, sar tan sey judaa.'