Massive crowds converge at Golden Temple to mark Bandi Chhor Diwas, Diwali
The Golden Temple complex, where the holiest of Sikh shrines Harmandar Sahib is located, was illuminated on Sunday to mark the Bandi Chhor Diwas and Diwali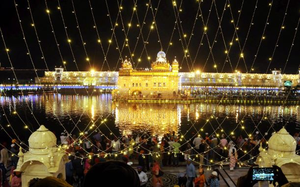 -

The Golden Temple complex, where the holiest of Sikh shrines Harmandar Sahib is located, was illuminated on Sunday to mark the Bandi Chhor Diwas and Diwali.

There has been festive spirit at the Golden Temple complex in Punjab's Amritsar since early morning as tens of thousands of people came there to offer prayers and seek blessings.

Chief Minister Bhagwant Mann extended warm greetings to the people on the historic Bandi Chhor Diwas, to mark the release from prison of the sixth guru, Guru Hargobind, and 52 other princes with him, in 1619.

The guru and the princes arrived in Amritsar during Diwali festivities. Since then, the Bandi Chhor Diwas and Diwali celebrations coincide at the Golden Temple complex.

Elsewhere in Punjab, gurdwaras and markets wore a festive look. Hundreds of people thronged various markets in Ludhiana, Jalandhar, Patiala, Amritsar and other towns.

The festival spirit for Diwali could also be seen in Chandigarh and towns and cities in Haryana.

In a message, Punjab Governor Banwarilal Purohit said the festival celebrated by people of various religious and sects, strengthens the sense of unity, goodwill and fraternity among the people of the country.

"The festival inspires us to work for the service of humanity," he added.