Published On
Meghalaya governor Satyapal Malik termed the Narendra Modi led central government as 'dictatorial': Read to what more he said
Satyapal Malik was at a press meet organized on the occasion to commemorate those died in the wake of year long farmers protest and after
Author :
Ujjwal Samrat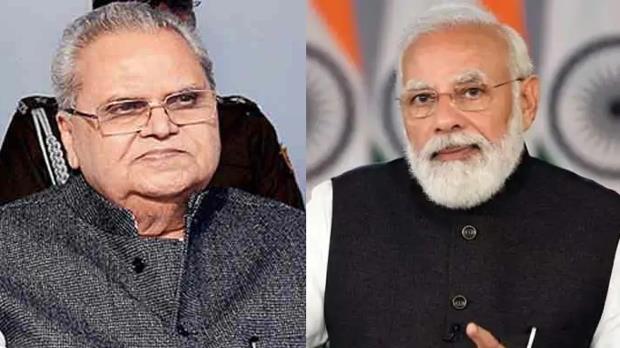 Meghalaya governor Satyapal Malik has leveled the Narendra Modi-led BJP government at the center as dictatorial while speaking at an event organized for commemorating the sacrifice of those who died during the farmer's protest, in Jalandhar.
Satyapal Malik remarked, however, that the govt has rolled back the three controversial farm laws, but hasn't met the essential outstanding demands of the farmers nationwide. Among the major points of concern highlighted by him at the event was the release of youths detained for hoisting the Nishan Sahib flag at the Red Fort during the tractor's rally convened by the farm's union on the occasion of Republic Day last year.
The farm unions, opposition, and several other independent outfits have often criticized the central government in the tune of what Satyapal Malik has highlighted at the commemoration gathering.
Farm Union during the wake of farmers' protest and even to date are criticizing the government for their poor policies that are scrapping jobs and responsible for the poor condition of the farming in the country. They are of the view that the government is notwithstanding their promise.
Attending a press conference at the meet Governor Satyapal Malik justified the act of hoisting 'Nishan Sahib' at the Red Fort and said it is the right of the Sikh community. He went on to say that the farmers had faced a lot due to the poor policies of the Narendra Modi government and leveled the central government as anti to the farmers of the nation.
Malik seemed disappointed with the government for not taking any legit steps on the MSPs and releasing the detained farmers and youths for over a year now. While talking at length Malik made a reference to the central agencies.
He said the central agencies are working under huge pressure from the government and whatever the government wishes are executed by these statutory bodies especially mentioning the Enforcement Directorate. He applauded the people of Punjab for their stance on the farm laws and appealed to not vote for the BJP in the upcoming elections.
Satyapal Malik has often made these criticizing remarks against Narendra Modi-led central government and to the PM in person. Earlier this year during a public outing days after meeting the PM he termed Narendra Modi as Haughty.
Satyapal Malik was the governor of J&K at the time when Article 370 was abrogated. He was then transferred to Goa as the governor post the announcement of J&K as a UT and is now settled at the gubernatorial post of Meghalaya.