Men's ODI WC: Bumrah, Shami, Siraj have been excellent, same for spinners, says Rohit Sharma
Stylish captain Rohit Sharma on Saturday lavished praise on pacer Mohammed Shami and other Indian bowlers for their stunning performance in the ongoing World Cup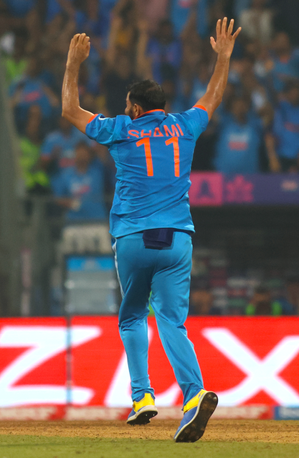 -

Stylish captain Rohit Sharma on Saturday lavished praise on pacer Mohammed Shami and other Indian bowlers for their stunning performance in the ongoing World Cup.

Despite missing out on playing India's first four matches of the 2023 edition, Shami has been hugely impactful with his crucial spells. He outclassed the batters with straight seam and impeccable lengths to be the leading wicket-taker of the tournament with 23 scalps.

Asked about Shami missing out on the initial matches for India, Rohit said, "It was tough for Shami to not play the initial part of the World Cup. But he was there for the team to help Siraj and Bumrah."

"That shows the quality of him being the team man he is. We had a chat with him about why he was missing out. But he kept working hard and that shows the kind of mental space he was in before the tournament. It says a lot about him. Once the opportunity opened up for him, he was right there. We can see with his performances."

"The bowlers have done a great job for us in this tournament. Our pacers and spinners have been great. When we were defending as well, they were great. Bumrah, Shami, Siraj have been excellent. The same for the spinners as well when we wanted to take wickets in the middle overs," said Rohit.

Enquiring what would be the playing XI on Sunday against Australia in the final, Rohit maintained tight-lipped.

"We haven't decided on the XI. We will assess the wicket and decide on it."

Further talking about the opposition, the India captain said, "Australia have played good cricket and both the teams deserve to be in the finals. We know what Australia can do. They are a very complete side. We want to focus on what we want to do. We don't want to worry about what kind of form they are in, rather focus on our cricket and plans."