Published On
Mexico Earthquake Video: Tremor of 7.6 magnitude shakes buildings & traffic signals in horrific viral footage; Watch
Multiple Mexico Earthquake viral videos have been spreading like a wildfire and netizens are shell-shocked after seeing the horrific footages. Author :
Ujjwal Samrat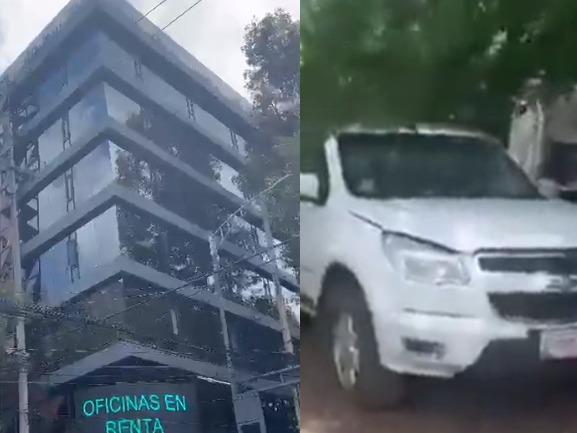 While the world is still coping with the strong tremors felt in Taiwan, Mexico was shaken by a massive earthquake of magnitude 7.6 on Monday, killing at least 1 person. Mexico Earthquake has shaken the world as it was more deadly than what hit Taiwan a few days back. Now, Mexico Earthquake Videos have been doing rounds on social media showing how deadly the tremors were. In fact, multiple Mexico Earthquake viral videos have been spreading like a wildfire and netizens are shell-shocked after seeing the horrific footages.
One of the Mexico Earthquake viral videos shows multiple vehicles parked in a residential colony shaking like toys along with nearby houses. Another video shows a skyscraper shaking at its place, inducing fears among people that it might turn deadly if the building collapses. Not only this, but another video also shows how traffic signals were shaking from the shocks of the earthquake of magnitude 7.6.
Watch Mexico Earthquake Viral Videos
7.6 magnitude earthquake in Mexico, That's the 3rd major quake in a handful of days. pic.twitter.com/PuVaZ8brJJ

— 🥀_Imposter_🕸️ (@Imposter_Edits) September 20, 2022
Do yourself a favor and remote work from Mexico City, it's truly magical ✨pic.twitter.com/mJrLeYJSS5

— Alex Chapa (@alexchaps) September 19, 2022
Earthquake hit off the coast of Mexico and our hotel room in Puerto Vallarta shook hard. #earthquake pic.twitter.com/e1jGsI1iQn

— Jon (DLC Included) (@itspapajon) September 19, 2022
Mexico Earthquake
'I am racist & I don't care': Georgia restaurant slammed after Black woman harassed for visiting 'a white place'; Video Viral
For the unversed, Mexico City was jolted by a massive earthquake. The tremors hit the city at 1:05 pm local time, and there were no immediate reports of any significant damage, according to the US Geologic Survey, which had initially put the magnitude at 7.5. It said the quake was centered 37 km (23 miles) southeast of Aquila near the boundary of Colima and Michoacan states and at a depth of 15.1 km (9.4 miles). It is pertinent to mention here that, the fresh earthquake hit Mexico on the anniversary of two major tremors in 1985 and 2017. On September 19, 1985 a 8.1 magnitude quake in Mexico City killed more than 10,000 people and destroyed hundreds of buildings. On the anniversary of that earthquake in 2017, a 7.1 quake left around 370 people dead, mainly in the capital.
Coming to Mexico Earthquake 2022, the country's National Civil Defence agency said that the navy's tsunami centre had not issued an alert because due to the epicenter's location, no variation in sea levels was expected. However, that contradicted an alert from the US Tsunami Warning Centre. It said hazardous tsunami waves were possible for coasts within 186 miles (300 km) of the epicenter.