Miss Universe 2023: India's Divita Rai qualify for top 16, Know the full list
Hailing from Karnataka, Divita Rai is an Indian model and beauty pageant titleholder who was crowned Miss Universe India on 28 August 2022 in Mumbai by outgoing Miss Universe India and Miss Universe 2021 Harnaaz Sandhu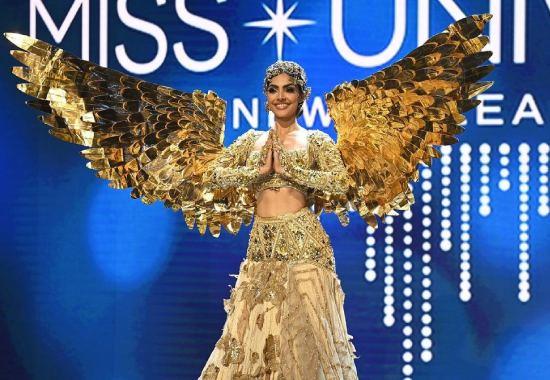 -

Continuing dominance of India at the world's biggest stage of beauty pageant Miss Universe 2023, Divita Rai qualified for the top 16. Miss Universe 2023 kickstarted with contestants from more than 80 participating to win the coveted beauty pageant title. Hailing from Karnataka, Divita Rai represented India at the Miss Universe 2023 and she qualified for the Top 16 based on the votes she got at Miss Universe 2023 App. Notably, India is defending the Miss Universe's crown as in 2022 Harnaaz Sandhu won the title.
DIVITA RAI, INDIA 🇮🇳

LIVA Miss Diva Universe 2022, @divitarai2 at last night's @MissUniverse Preliminary Competition 😍#DivitaRai #71stMissUniverse #MissUniverseIndia pic.twitter.com/59w63rrB2l

— Miss Diva (@MissDivaOrg) January 12, 2023
Here's Miss Universe 2023 Top 16
Ashley Cariño - Puerto Rico
Mideline Phelizor - Haiti
Monique Riley - Australia
Andreina Martínez Founier - Dominican Republic
Payengxa Lor - Laos
Ndavi Nokeri - South Africa
Telma Madeira - Portugal
Amelia Tu - Canada
Alessia Rovegno Cayo - Peru
Tya Jané Ramey - Trinidad and Tobago
Gabriëla Dos Santos - Curaçao
Miss Universe 2023 Top 16: Payengxa Lor makes history, becomes first pageant to qualify for Laos
Divita Rai - India
Amanda Dudamel - Venezuela
Alicia Faubel - Spain
R'Bonney Gabriel - USA
Maria Fernanda Aristizabal - Colombia
Who is Divita Rai?
Hailing from Karnataka, Divita Rai is an Indian model and beauty pageant titleholder who was crowned Miss Universe India on 28 August 2022 in Mumbai by outgoing Miss Universe India and Miss Universe 2021 Harnaaz Sandhu. Divita will now represent India at Miss Universe 2022 competition to be held on 14 January 2023. Divita qualified among the top three contestants from Karnataka state attempting to qualify for Femina Miss India 2019. In 2021, she competed in Miss Diva 2021 and finished as the 2nd runner-up to Miss Universe 2021, Harnaaz Sandhu. She also won the sub contest titles of Miss IQ, Miss Lifestyle, and Miss Sudoku during the pageant. Rai was crowned Miss Diva Universe 2022 on August 28 last year by the outgoing titleholder, Harnaaz Sandhu at the Miss Diva Organization's 10th-anniversary gala.
Miss Universe 2023
Miss Universe 2023 held in New Orleans and over 80 delegates from across the globe will be competing for the crown at the Ernest N. Moral Convention Center in the US. Hosts Olivia Culpo and Jeannie Mai Jenkins introduced the night's selection committee, all of whom are women in various industries. The judging panel included Emmy-award-winning journalist and author Myrka Dellanos, sports reporter Emily Austin, Miss Universe 1998 Wendy Fitzwilliam, Quido skincare founder Olivia Quido, Viral media PR founder Mara Martin, Roku head of marketing and merchandising Sweta Patel, Miss Universe 2010 Ximena Navarrete, and hip hop artist Big Freedia.