Published On
Mother's Day 2022: Make this day a happy one by sending some nice greetings to your lovely mom
Mother's Day is around the corner and this is the moment you can tell her how much you love and appreciate her for the efforts she puts in
Author :
Nishtha Jairath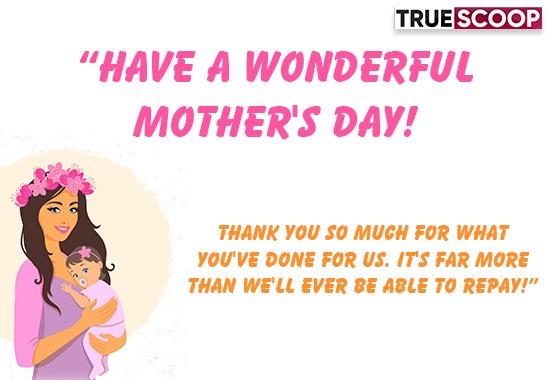 Mother's Day is around the corner and it is the perfect day to express your love and gratitude to your mother. This is the moment, you can tell her how much you love her, how grateful you are for all her hard work, and more. This Mother's Day, write your mother a special note that she will never forget, and let her know how much she is cherished.
On this day, make her remember the old and happy times with you. Appreciate her for the valuable lessons she has taught for the race of life. By writing down your emotions, make her realize that you adore her and how much she means to you in your life. But, don't make it too emotional as we can the moment to be a happy one which is cherished all our lives.
Some of the fruitful messages which might make your mother feel special:
• "Wishing you all the love and happiness in the world which you richly deserve. Hope to annoy you all my life as I've done till now. I love you so much Mommy that I can't even express it through my words or gestures. Thank you for being there for me."
• Someone has rightly said, "Behind every great kid is a great mom". Today on this special day I want to express my feelings that Mom you are my first and forever friend. You have been my constant support throughout my life and I love you for that.
• "Have a wonderful Mother's Day! Thank you so much for what you've done for us. It's far more than we'll ever be able to repay!"
• "I owe it all to you, Mom, from feeding and clothing me to loving me through the terrible times and assisting me in achieving my goals."
• "Mom, without you by my side, I'm not sure how I'd get through each day. Thank you for being such a wonderful mother to me. We are all smitten with you! Mother's Day greetings"

• "Thank you for demonstrating how to be the best version of myself, Mom. I am a strong lady because I was raised by a strong woman. I truly appreciate everything you've done for me."