Naval helicopter's rotor blade kills official at Kochi INS Garuda runway
The rotor blade of a Chetak helicopter of the Indian Navy which was on the runway of INS Garuda during training on Saturday, hit a naval official who has been reported dead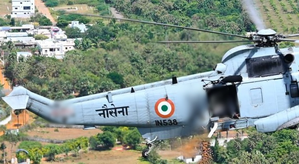 -

The rotor blade of a Chetak helicopter of the Indian Navy which was on the runway of INS Garuda during training on Saturday, hit a naval official who has been reported dead.

According to sources, the incident took place around 2:30 p.m.

An official of the Kochi Harbour police station, on condition of anonymity, said what they have been informed is the helicopter was on a routine training flight and was landing when the accident occurred.

"We have been told that a Naval official who was on the runway has been killed, while the two on board the aircraft suffered injuries and have been taken to the naval hospital. Our officers are at the site and more details are awaited," said the police official .

A board of inquiry has been ordered to investigate the cause of the accident.

The helicopter was on a routine flight and the Indian Navy officials are tightlipped about the incident.