Navaratri 2022: 9 different forms of 'Goddess Durga' Explained, and the offerings devotees make
Over this period of nine days, different forms of Goddesses Durga are worshipped on different days along with their offering in Prasad and Bhog also differs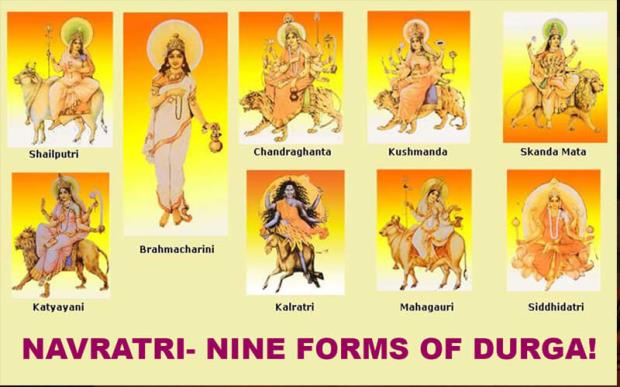 -

Navaratri is the most-awaited and widely celebrated festival of Hindus. As per the mythology, there are a total of 4 Navaratris in a year but only two are widely celebrated, Chaitra Navaratri and Sharad Navaratri.

The most pivotal of all is Sharad Navaratri which falls right after Ganesh Chaturthi, which begins either in the month of September or October. Sharad Navaratri is a nine-day grandeur festival celebrated in pan India.

During this nine-day festival goddesses, Durga, and her 9 avatars are worshipped. People observe fast over the period and stay without salt or Ann which includes, wheat, cereals, and rice).

Over this period of nine days, different forms of Goddesses Durga are worshipped on different days along with their offering in Prasad and Bhog also differs.

With September 26th marking the beginning of the much-awaited and pious festival, a look at the Goddess Durga's all 9 forms and the offerings made to each of her manifestations.

1. Goddess Shailputri:

Goddess Shailputri is the first form of Goddess Durga. In her appearance, she will be seen holding a Trishul in one hand and a lotus in the other. Her ride is the famous bull from the Hindu mythology 'Nandi.'

Goddess Parvati was born as the daughter of Himalaya and in Sanskrit, the mountain is referred to as Shail and thus giving her the name of Shailputri.

Offering: Since the ages when the Navaratri began to be celebrated, devotees have been offering pure ghee on the foot of Goddess Shailputri. As per religious scholars and priests by offering pure ghee the devotees are blessed with a life free of diseases and illness.

2. Goddess Brahmacharini:

The second day of Navratri is dedicated to Goddess Brahmacharini. She walks barefoot with a sacred and powerful rudraksha mala in one hand and a Kamandalu in the other. The goddess's meditative form replicates Parvati's meditation to please Lord Shiva.

Offering: Goddess Brahmacharini is offered sugar which is believed that ensures the long life of the family members.

3. Goddess Chandraghanta:

The third day of Navratri is of Goddess Chandraghanta. The fierce 10-armed goddess with a crescent moon on her forehead gives her the name Chandraghanta. Her tiger rides to destroy all evil and wicked.

Offerings: The ferocious goddess is pleased with Kheer, with a belief that takes away your pains.

4. Goddess Kushmanda:

The fourth day of Navratri is devoted to Devi Kushmanda. Derived from three words - 'Ku' (little), 'Ushma' (warmth or energy), and 'Amnda' (egg), implying her to be the creator of the universe.

Raghav Chadha appointed as AAP's Gujarat co-in-charge: Know the cause behind his nomination and what it means to the party

Offerings: Widely believed that offering Malpur to Goddess will improve the intellect and will sharpen the decision-making intellect.

5. Goddess Skandmata:

Goddess Skandmata, the fifth form of the goddess. Skandmata is a four-armed deity, which carries a lotus in two of her arms with a sacred Kamandalu and a pair of bells in the other two. She will be seen carrying Kartikay on her lap which gives her the name Skanda and seats over a lotus.

Offerings: Bananas are the favourite fruit of Goddess Skandmata.

6. Goddess Katyayani:

The sixth day of Navratri called Sashti is dedicated to Goddess Katyayani, who is a form of Shakti. She is known as a warrior goddess, Katyayani is considered one of the most violent forms of Goddess Parvati. Daughter of Sage Katyayan, the goddess has four arms carrying a sword and rides on a lion.

Offerings: Devotees offers her Honey as prasad which is expected that will serve them with power

7. Goddess Kaalratri:

Saptami called for the seventh day of Navaratri for goddess Kaalratri. As per myths, she sacrificed her skin color and took over a dark complexion to kill demons.

The four-armed goddess rides on a donkey with a sword, a noose, and a trident. Her visual appearance showcases a third eye on her forehead that is believed to contain the entire universe.

Offerings: By offering her Jaggery as prasad the goddess relieves all your pains, and obstacles and brings happiness.

8. Goddess Mahagauri:

Goddess eight form is again a four-armed deity carrying Trishul and Damru in her hand and riding on a bull or an elephant completely white in color.

Offerings: Goddess Mahagauri is offered coconut by devotees.

9. Goddess Siddhidatri:

Navami is the penultimate day of the goddess' presence among devotees before she finally departs on 'Vijaya Dashami'. Goddess Siddhidatri rides on a lotus holding a mace, chakra, book, and a lotus in her four arms. The goddess is a personification of perfection.

Offerings: Sesame Seeds are offered to Devi Siddhidatri with a belief that save us from all forms of unnatural events.