Published On
Navratri 2022 Dates: When is Shardiya Navratri? Know everything about Kalash Sthapana Subhmuhurat & Durga Puja
Navratri 2022 dates or when is Durga Puja, or Kalash Sthapana Subhmuhurat, everything has been answered below- Author :
Ujjwal Samrat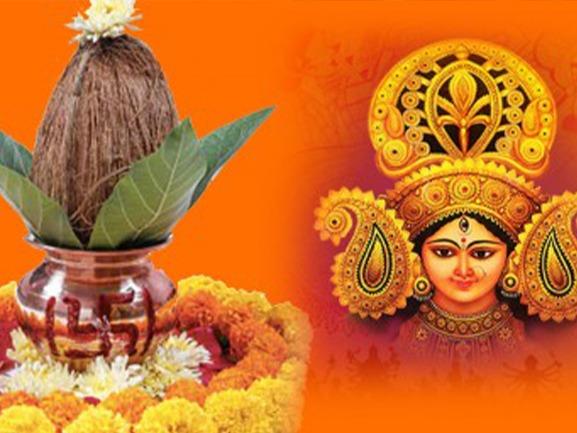 The widely celebrated 9-day festival Navratri 2022 is knocking on the doors and the people of India are bracing up to take a dip into spiritualism by celebrating Goddess Durga's victory over Asura King Mahisasur. In Sharadiya Navratri, people of India especially Hindus worship nine avatars of Maa Durga (Goddess Durga). Navratri is the longest-Hindu festival as it is celebrated for 9 days and interestingly each day has its own significance. Notably, Navratri has not been celebrated to its fullest due for the past two years due to the COVID-19 pandemic. Now, with all the restrictions lifted by the government of India and positive cases have dipped, Navratri 2022 is surely going to be a much-celebrated festival. Now, for those wondering about Navratri 2022 dates or asking when is Durga Puja, or even wondering about Kalash Sthapana Subhmuhurat, everything has been answered below-
When will Sharadiya Navratri 2022 start?
As per Hindu Calendar, Sharadiya Navratri 2022 is celebrated across the nation from Pratipada to Navami Tithi of Shukla Paksha of Ashwin month. The 9 days festival is also called Sharad Navratri because it is also the arrival of the autumn season. Finally lifting the curtains from Navratri 2022 dates, it will be celebrated from 26 September to 5 October till Durga Visarjan and Vijay Dashami.
Navratri 2022 Shubh Muhurat
Now, coming to Navratri 2022 Shubh Muhurat, Shardiya Navratri is starting in two auspicious yogas this year- Shukla and Brahma. Shukla yoga will begin from 9:06 pm on 25th September and will remain till 8:06 pm on the next day, 26th September 2022. On the other hand, on 26 September, Brahma Yoga will start from 8:06 am and will end on September 27, Tuesday at 6.44 am.
Navratri 2022: Date Calendar
Navratri 2022 Day 1 (Sept 26): Goddess Shailputri is worshipped- Goddess Shailputri is the first form of Goddess Durga. In her appearance, she will be seen holding a Trishul in one hand and a lotus in the other. Her ride is the famous bull from the Hindu mythology 'Nandi.
Navratri 2022 Day 2 (Sept 27): Goddess Brahmacharini Devi is worshipped- The second day of Navratri is dedicated to Goddess Brahmacharini. She walks barefoot with a sacred and powerful rudraksha mala in one hand and a Kamandalu in the other. The goddess's meditative form replicates Parvati's meditation to please Lord Shiva.
Navratri 2022 Day 3 (Sept 28): Goddess Chandraghanta is worshipped- The third day of Navratri is of Goddess Chandraghanta. The fierce 10-armed goddess with a crescent moon on her forehead gives her the name Chandraghanta. Her tiger rides to destroy all evil and wicked.
Navratri 2022 Day 4 (Sept 29): Goddess Kushmanda is worshipped- The fourth day of Navratri is devoted to Devi Kushmanda. Derived from three words - 'Ku' (little), 'Ushma' (warmth or energy), and 'Amnda' (egg), implying her to be the creator of the universe.
Navaratri 2022: 9 different forms of 'Goddess Durga' Explained, and the offerings devotees make
Navratri 2022 Day 5 (Sept 30): Goddess Skandmata is worshipped- Goddess Skandmata, the fifth form of the goddess. Skandmata is a four-armed deity, which carries a lotus in two of her arms with a sacred Kamandalu and a pair of bells in the other two. She will be seen carrying Kartikay on her lap which gives her the name Skanda and seats over a lotus.
Navratri 2022 Day 6 (Oct 1): Goddess Katyayani is worshipped- The sixth day of Navratri called Sashti is dedicated to Goddess Katyayani, who is a form of Shakti. She is known as a warrior goddess, Katyayani is considered one of the most violent forms of Goddess Parvati
Navratri 2022 Day 7 (Oct 2): Goddess Kalratri is worshipped- Saptami called for the seventh day of Navaratri for goddess Kaalratri. As per myths, she sacrificed her skin color and took over a dark complexion to kill demons.
Navratri 2022 Day 8 (Oct 3): Goddess Mahagauri is worshipped as Durga Ashtami is celebrated- Goddess eight form is again a four-armed deity carrying Trishul and Damru in her hand and riding on a bull or an elephant completely white in color.
Navratri 2022 Day 9 (Oct 4): This day is celebrated as Maha Navami when fast is broken and Goddess Siddhidhatri is worshipped- Navami is the penultimate day of the goddess' presence among devotees before she finally departs on 'Vijaya Dashami'.
Navratri 2022 Day 10 (Oct 5): Goddess Durga idols are immersed in water. Dussehra is celebrated
Sharadiya Navratri Kalasha Sthapana Muhurat
Ghat or Kalash installation time - 26 September 2022, Monday, from 6.20 am to 10.19 am
Ashwin Shukla Paksha Pratipada start date - 26 September 2022, from 3:24 am
Ashwin Shukla Paksha Pratipada date ends - 27 September 2022, till 03.08 in the morning