Published On
Netflix's must-Watch week: Nine highly anticipated releases!
Don't miss Netflix's captivating lineup from May 23-26, 2023: documentaries, comedy specials, thrilling films, reality series, and more! Author :
Malkit Singh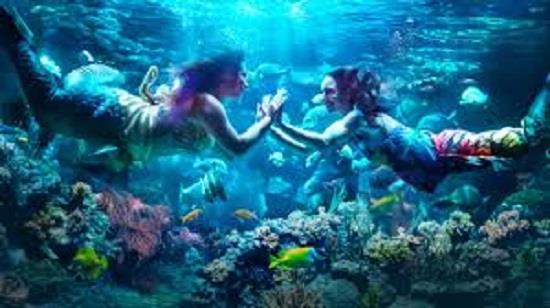 Get ready to fill your Netflix queue because the streaming giant is set to deliver a week filled with captivating content. From May 23rd to May 26th, 2023, Netflix is dropping a wave of must-watch releases that are bound to leave you glued to your screens. Whether you're a fan of gripping dramas, hilarious comedies, or thrilling adventures, this lineup has something for everyone. So, mark your calendars and prepare for a binge-worthy week of entertainment with these nine highly anticipated Netflix releases.
1. MerPeople: A documentary series diving into the world of mermaids, streaming on Netflix from 23/5/2023. Directed by Oscar-winning filmmaker Cynthia Wade, this captivating series follows a group of mermaids as they participate in real events and audition for roles as underwater performers. While the surface may appear glamorous, viewers quickly discover the hidden challenges and pressures that accompany this unique career path. Despite the seductive allure of their mermaid fins, the weight of expectations, difficulties, and concerns within the performance industry becomes apparent. In the words of the official Merpeople YouTube description, the series dives into the fascinating world where a love for mystical sea creatures turns into real-world careers.
2. Wanda Sykes: I'm an Entertainer: Enjoy a hilarious comedy special featuring Wanda Sykes, available on Netflix from 23/5/2023.The comedy icon sounds off on parenting with her French wife, the perils of public bathrooms and why she's tired of going high when others go low.
3. Victim/Suspect: A gripping documentary film exploring the blurred lines between victim and suspect, premiering on Netflix on 23/5/2023.Journalist Rae de Leon's first solo investigation uncovers a distressing pattern: Young women reporting sexual assault are charged with making false reports, arrested, and imprisoned by a system they trusted for protection.
4. The Ultimatum: "The Ultimatum: Queer Love" is a groundbreaking reality series on Netflix starting May 24, 2023. Explore the lives of diverse queer individuals as they navigate love, acceptance, and personal growth. Experience heartfelt stories and celebrate LGBTQ+ relationships. Get ready to be inspired and cheer for love in all its forms.
Shah Rukh Khan's WhatsApp chats leaked; SRK 'begs' Sameer Wankhede 'don't send Aryan to jail'
5. Mother's Day: "Mother's Day" is a thrilling horror/thriller film that is set to provide the perfect Mother's Day viewing experience. Coming exclusively to Netflix on May 24, 2023, this spine-chilling movie promises suspense, scares, and a gripping narrative. Brace yourself for a pulse-pounding tale that explores the dark depths of motherhood and the intricate dynamics between a mother and her loved ones. With its expertly crafted suspense and intense storytelling, "Mother's Day" will keep you on the edge of your seat from start to finish. Prepare for a cinematic experience that will leave you breathless and questioning the true nature of a mother's love.
6. Hard Feelings: "Hard Feelings" is a side-splitting comedy film that guarantees non-stop laughter. Available exclusively on Netflix starting May 24, 2023, this uproarious movie is packed with hilarious moments that will leave you in stitches. Join a talented ensemble cast as they navigate a series of comedic misadventures, delivering witty one-liners and unforgettable antics. "Hard Feelings" offers a lighthearted escape, providing a perfect blend of humor and entertainment. Get ready to laugh out loud and indulge in a feel-good comedy that will brighten your day and leave you with a smile on your face.
7. FUBAR: "FUBAR" is a riotous comedic series that immerses viewers in a world of chaos and hilarious mishaps. Streaming exclusively on Netflix starting May 25, 2023, this uproarious show promises an unforgettable ride filled with absurdity and laughter. Follow the misadventures of a group of lovable but clueless characters as they navigate through a series of comical and outlandish situations. From wild parties to outrageous schemes, "FUBAR" delivers an unpredictable and uproarious storyline that will keep you entertained and craving more. Prepare to dive into a comedy series that embraces the chaos and celebrates the joy of comedic mayhem. Get ready for belly laughs and comedic madness that will leave you in stitches.
8. Barbecue Showdown: "Barbecue Showdown" is a thrilling reality series premiering on Netflix on May 26, 2023. Watch as top barbecuers compete in intense culinary battles, showcasing their flavors, techniques, and secret recipes. Get ready for mouthwatering dishes, fierce rivalries, and expert judges. Indulge in the sizzling excitement of this high-stakes barbecue competition that will leave you craving more.
9. Turn of the Tide: "Turn of the Tide" is a captivating series coming to Netflix on May 26, 2023. Immerse yourself in a world of intrigue, suspense, and forbidden romances as complex characters navigate unexpected twists. Get ready for a gripping narrative that will keep you on the edge of your seat.