Published On
Shah Rukh Khan's WhatsApp chats leaked; SRK 'begs' Sameer Wankhede 'don't send Aryan to jail'
Shah Rukh Khan's leaked WhatsApp chats show how SRK begged Sameer Wankhede to release Aryan Khan and he will make sure that this does not happen again. Author :
Malkit Singh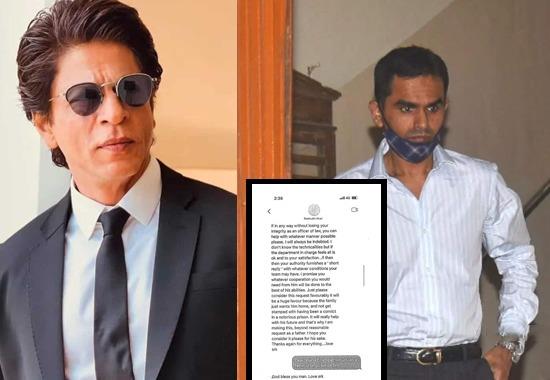 Former Mumbai Zonal Head of Narcotics Control Cureau (NCB) Sameer Wankhede who arrested Bollywood actor Aryan Khan in the Cordelia Cruise drug bust case has come under the scanner of CBI. Former NCB officer Samer Wankhede has been accused of extorting Rs 25 crore from Bollywood actor Shah Rukh Khan in order to release his son Aryan Khan when he was arrested from Cordelia Cruise on allegation of drug charges. CBi has recently booked Sameer Wankhede on extortion charges and stated that special enquiry team (SET) of the NCB had red-flagged several lapses and irregularities in the operation on the cruise ship conducted under the "monitoring" of Wankhede. Not only this, Wankhede was summoned by the CBI on Thursday but did not appear before the central investigative agency. Now, Sameer Wankhede has produced his purported WhatsApp chats with Shah Rukh Khan when the Bollywood actor contacted him. Wankhded produced it before the court in order to prove his innocence that he did not extort Shah Rukh Khan in the Aryan Khan drug case.
Now, Shah Rukh Khan's WhatsApp chats have been leaked and it has been going viral on social media. Shah Rukh Khan's leaked WhatsApp chats show how SRK begged Sameer Wankhede to release Aryan Khan and he will make sure that this does not happen again. Furthermore, leaked SRK chats show that he contacted Wankhede first as a 'father' and 'law-abiding' citizen. Going by Shah Rukh Khan's leaked messages, the Pathaan actor also talked to the NCB officer over a WhatsApp call.
In one of the leaked SRK chats, the Bollywood actor says, "Get your guys to go slow for Gods sake. I swear I will stand by you at all times to come and assist you with what all you are trying to achieve good. It's a man's promise and you know me enough to know I am good for it. I beg you to please have mercy in me and my family. We are a simple set of people and my son has been a bit wayward, but he doesn't deserve being in a jail like a hardened criminal. You also know that. Please have a heart man, please I beg you."
IB 71 True Story: Who is IB agent Dev Jammwal & how did he help India during the 1971 war?
In another leaked message of SRK, the actor says, "I beg you man, please don't let him be in that jail. He will break as a human being. His spirit will be destroyed because of some vested people. You promised you will reform my child not put him in a place where he may come out completely battered and broken."
Shah Rukh Khan, Sameer Wankhede's WhatsApp chat leaked#SRK #SameerWankhede #ShahRukhKhan #AryanKhan pic.twitter.com/dHL3VdFWly

— Shubham Rai (@shubhamrai80) May 19, 2023
"If in any way without losing your integrity as an officer of law, you can help with whatever manner possible please. I will always be indebted. I don't know the technicalities but if the department in charge feels all is ok and to your satisfaction. If then your authority furnishes a ' short reply ' with whatever conditions your team may have. I promise you whatever cooperation you would need from him will be done to the best of his abilities. Just please consider this request favourably it will be a huge favour because the family just wants him home, and not get stamped with having been a convict in a notorious prison. It will really help with his future and that's why I am making this, beyond reasonable request as a father. I hope you consider it please, for his sake," wrote Shah Rukh Khan in leaked WhatsApp chats.