Published On
Nihang's attack on Church in Amritsar sparks outrage and Police investigation
Nihang's attack on a church in Amritsar sparks tensions and demands for justice, as police investigate the incident. Author :
Malkit Singh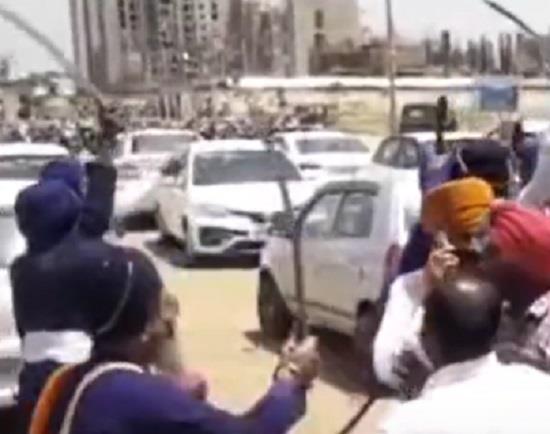 A recent incident involving Nihangs attacking a church in Amritsar has reignited tensions between the Nihang community and the local Christian brotherhood. The Nihangs stormed the church during prayer time, desecrated the Bible, and caused damage to vehicles belonging to the Christian community. However, the situation was brought under control by the timely intervention of the police.
The incident occurred at the Rajewal village church in Amritsar during an afternoon worship session. A group of Nihangs forcefully entered the church and launched an attack, vandalizing property and disrespecting the Christian holy book, the Bible. As tensions escalated, the Nihangs brandished swords, prompting the Christian followers to retaliate by pelting bricks and stones. Subsequently, the Nihangs fled from the scene.
Nihang organizations have expressed their objection to individuals using Sikh attire for propagandist purposes, indicating that this incident may have been influenced by such actions.
Jalandhar demands answers: Sports Hub Project crumbles after 7 Years of Inaction
Following the incident, the Christian community reacted strongly and demanded action be taken against the perpetrators. They called for the application of Section 295A, which deals with sacrilege of the Sri Guru Granth Sahib, and Section 307, which addresses acts endangering life or causing grievous harm. The Christian community's demand highlights the severity of the incident and their desire for justice.
To diffuse the tension and address the concerns of the Christians, SSP Rural Satinder Singh promptly arrived at the scene. He assured the Christian community that a thorough investigation would be conducted, which helped alleviate their anger and frustration.