Nirmala Sitharaman's idea of falling Rupee not taken well by Netizens, gets trolled over "Rupee not Sliding..." remark; Watch
"The rupee is not sliding; the dollar is strengthening incessantly...All other currencies are performing against the dollar." she said in her remarks defending depreciation of India Rupee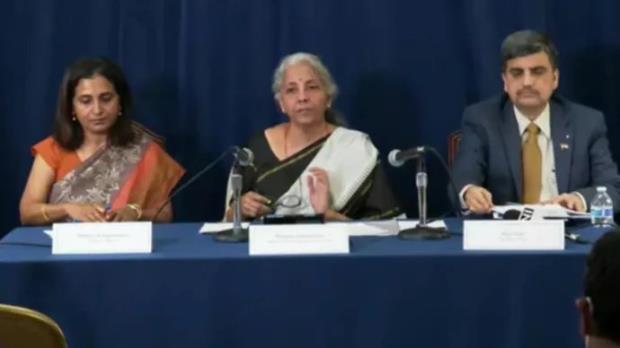 -

After the clip of her latest press conference has gone viral, Union Finance Minister Nirmala Sitharaman landed amidst a storm of critics and trollers where she makes attempt to defend a question about the depreciation of the Indian Rupee.

Nirmala Sitharaman is on her official trip to the USA, during one press conference from the American Capital which took place yesterday, a journalist asked her to comment on the falling state of the India Rupee to which she responded saying that "The Indian rupee is not sliding but the US dollar is strengthening incessantly."

As she went on to speak, in a statement right next to this she said that RBI is making all sorts of attempts to contain the fall of the Indian Rupee. Her remarks on the question can be clearly heard in the video as she continues saying.

"The rupee is not sliding; the dollar is strengthening incessantly...All other currencies are performing against the dollar." In her remarks defending the INR she said, the Indian rupee has performed better than any other emerging market currency.

Watch Here:
Rupee has not fallen, dollar has strengthened: Finance Minister Nirmala Sitharaman @nsitharaman @FinMinIndia #RupeeVsDollar #dollar #rupee #NirmalaSithraman #FinanceMinister #currencycrash pic.twitter.com/beWZ6Ug5dI

— Gaurav kochar (@gaurav_kochar) October 16, 2022
During her response, she highlighted that the RBI is taking all possible measures to ensure that there is not too much volatility. Union FM's remarks came after the rupee fell to an all-time low of 82.68 against the American Dollar.
However, the Netizens including a few politicians didn't seem pleased at all by Union FM's response has landed in similar controversies earlier as well, and went on to reprimand and trolled her for this remark.
Some of the tweets made in response to the statement defending the rupee's fall:
Baba Ramdev's allegations on Bollywood; says- Salman takes drugs, don't know about Aamir
वित्त मंत्री ने कहा कि रुपया कमज़ोर नहीं हो रहा, इसे ऐसे देखा जाना चाहिए कि डॉलर मज़बूत हो रहा है.

लगता है 8 साल में अर्थशास्त्र भी बदल गया है.पहले रुपये कमजोर होता था डॉलर मज़बूत नहीं. तब भारत सरकार ज़िम्मेदार थी अब अमेरिका.

pic.twitter.com/0BB16N4UYh

— Milind Khandekar (@milindkhandekar) October 16, 2022
#NirmalaSitharaman is a gem of #FinanceMinister

Her statement on rupee is not weakening, but dollar is strengthening should be framed and put everywhere.

People should know the cluelessness/stupidity of a finance minister.

— Rakesh (@altruistic_in) October 16, 2022
BJP's leader Subramanian Swamy also took a dig at the FM's remark who tweetd.
Congrats. JNU never fails pic.twitter.com/STYwkNmELn

— Subramanian Swamy (@Swamy39) October 16, 2022
MODI GOVT & FINANCE MINISTER'S HYPOCRISY ON RUPEE VS DOLLAR!#RupeeVsDollar #NirmalaSitharaman #economy #Modi #BJPFailedIndia pic.twitter.com/1aBFHPwhy0

— FinalWarAgainstCorruption (@FWACorruption) August 4, 2022
ये बड़ी अच्छी बात कही आप ने… pic.twitter.com/x3ZiiKgJm2

— Ashraf Hussain (@AshrafFem) October 16, 2022
The rupee fell by 8 paise to close at 82.32 against the US dollar on Friday amid a firm greenback overseas and sliding crude oil prices. On Thursday, the local currency had settled at 82.24 against the US dollar.