Published On
Officers on ED's radar: Raid at Excise Commissioner's house in Panchkula for 8 hours
There was a raid on his house located in Sector 8 of Panchkula, where documents are being scrutinized for several hours
Author :
Samriti Bharadwaj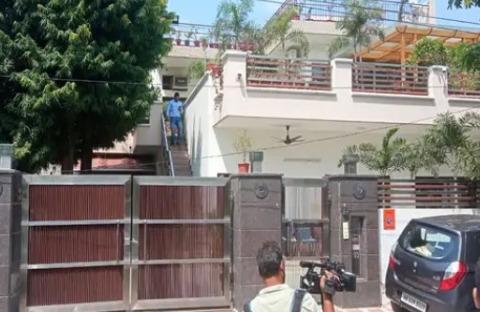 The officers of Punjab have also come on the radar of the Enforcement Directorate (ED). On Tuesday, the ED conducted a raid at the residence of Naresh Dubey, Joint Commissioner of the Punjab Excise Department. There was a raid on his house located in Sector 8 of Panchkula, where documents are being scrutinized for several hours. The ED has been looking through the house's records for almost 8 hours. The ED has not yet stated this case, though.
The ED has raided around 30 locations throughout the country in connection with the Delhi liquor policy. This raid of ED took place when on September 7 and 8, Delhi CM Arvind Kejriwal and Punjab CM Bhagwant Mann will attend various programs in Hisar, Haryana. The action of ED is being told as a matter related to the excise policy. The ED has recently launched a money laundering probe into the alleged liquor policy scam in Delhi.
HC notice to Punjab government: Soughts status report on church security arrangements
There is disagreement about Punjab's excise policy as well. It was compared to Delhi by the Congress and the Akali Dal. They said that when there was a rift in the policy, then the policy of Punjab should also be investigated. Sukhbir Badal, the leader of the Akali Dal, even said that 500 crores from the policy had been stolen. The beans are wholesalers in Delhi and Punjab. The wholesaler's commission has also been raised as a result of this. In a letter to the governor, Congress and Akali Dal both asked for a CBI investigation into the Punjab Excise Policy.
The important thing in this matter is that if no other excise officer has been investigated in Punjab, then is Naresh Dubey connected with Delhi's excise policy? Has he contributed to the formulation of the excise policy? It is being questioned whether he is close to any of the suspects listed in any alcohol policy or whether he knows anyone in the Delhi government.