Published On
'One Family-One Ticket' Formula Implemented in Akali Dal, Sukhbir Badal says – Party is not anyone's personal property
It was created 101 years ago to preserve the cult
Author :
Samriti Bharadwaj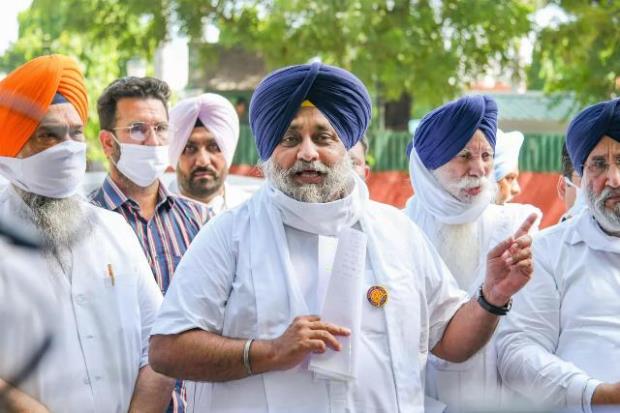 In Punjab, Shiromani Akali Dal (Badal) underwent an extensive change. A family will now only receive one ticket for an Akali Dal election. No district head will contest the election. In Chandigarh, SAD leader Sukhbir Badal made this announcement.
There was a rebellion in the Akali Dal over the leadership for some time.
Additionally, Sukhbir made it clear that Akali Dal is not anyone's property. As the impression is given. It was created 101 years ago to preserve the cult. Akali Dal belongs to Punjab. One head can now hold office for two consecutive terms in the Akali Dal. For the third term, he has to take a break in between for one term i.e. 5 years.
The Akalis under the leadership of Sukhbir, who lost two consecutive elections, are not liking the Akali Dal led by Sukhbir Badal. After leading the party in 2017, Sukhbir took over again in 2022. Despite this, he lost the election miserably both times. Even though he was anti-incumbency against Congress this time, he was unable to halt the Aam Aadmi Party. The Akali Dal only won 15 seats in 2017. Likewise, the vote share dropped to 9.4% from 25.2%. Akali Dal only received 3 seats in 2022. In comparison to the past election, the vote share decreased to 18.38%.
Ludhiana: ADGP Praveen Sinha takes a security check of the city's churches and other religious places
Sukhbir Badal himself failed to win the Jalalabad election. Parkash Singh Badal, his father and five-time chief minister, lost from his stronghold Lambi. In addition to this, a large number of Akali Dal veterans lost the elections. After this, the rebellion started in the Akali Dal. MLAs Manpreet Ayali, Jagmeet Brar and Prem Singh Chandumajra expressed open displeasure.