Onion prices up, selling at Rs 50-80 per kg across NCR
Onion prices rose up sharply in markets across Delhi-NCR on Thursday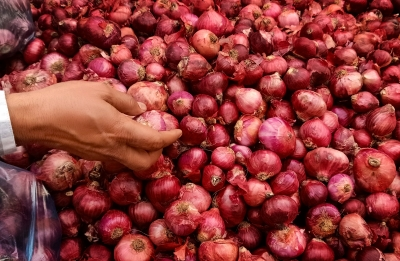 -

Onion prices rose up sharply in markets across Delhi-NCR on Thursday.

While the staple vegetable was selling at Rs 35 to 40 per kg last week, the prices are touching Rs 50-80 across Delhi-NCR now.

The sharp rise of nearly 50 per cent is attributed by customers across Delhi and Noida to the end of Navratri week.

"I purchased onions at Rs 40 per kg last week. But, today I bought them for Rs 80 per kg," Shekhar, a resident of Noida, told IANS.

Madhu Sharma, a resident of Yojana Vihar in east Delhi said that the onions are selling at Rs 60 per kg in her area.

Deepak Dogra a resident of Gagan Vihar said that he bought onions from Reliance store at Rs 56 per kg. However, local vendors are selling onions for nearly at Rs 80 per kg in his locality, he told IANS.

Rajeev, a resident of Ghaziabad, told IANS that he bought onions from Mother Dairy at Rs 65 per kg from Mother Dairy near his house. In Safal stores across Delhi, onions were selling at up to Rs 56 per kg depending upon the quality.

The retailers are attributing the rise in price rise in local mandis and increased demand post Navratri.