Published On
Explained: Pakistan's ISI fueling 'Pro Khalistan' sentiments after Indian Army tightens screws on terror in Kashmir; Germany-Canada new bases
In past two years there have been over 100 Khalistan-related cases in the state which was found to have a direct link with Pakistani Intelligence ISI, either in the form of funding or providing logistics Author :
Sukhdev Singh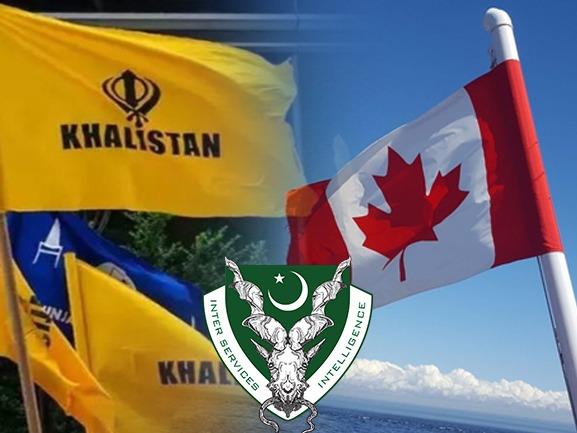 The banned secessionist and pro-Khalistan outfit Sikh for Justice is all set to take out a 'Khalistan Referendum' on November 6th in the Canadian city of Ontario. People participating in the referendum will be asked about their call for a new Khalistan out of India's jurisdiction.
The move has invited sharp criticism from the Indian Government. Batting for the state the spokesperson of Union Foreign Ministry Arindam Bagchi has weighed on raising the issue against referendum ahead of the Delhi-based Canadian embassy and the officials in Canada as well.
For the past two years, the call for Khalistan and anti-India slogans have significantly risen in Punjab. The pro-Khalistan outfit has flagged their slogans outside offices, temples, schools, and other public places. Their rallies showcase posters of Babbar Khalsa and Jarnail Singh Bhindranwale.
Moreover, the magnitude of this concern and the pro-secessionist call is far graver than you can imagine. Since 2020 there have been over 100 Khalistan-related cases in the state which was found to have a direct link with Pakistani Intelligence ISI, banking upon the call for a pro-Khalistan outfit has been growing in Canada and is slowly spreading its roots in Germany.
An official from the Central Intelligence Agency has said that over these two years the pro-Khalistan outfits and terror groups have turned strong in Punjab owing to funding that it has received from the ISI. Among these Khalistan Commando Force, Bhindranwale Commando Force of Khalistan, Khalistan Liberation Force, Sikh for Justice, and Khalistan Liberation Army are involved alongside others.
These outfits have been receiving funding from Canada, Germany, and Britain as well. Whereas, Pakistan and China have been providing logistics support to these outfits. The Drone-based supply of Drugs and arms has been reported in the bordering districts from time to time.
If reports are to be believed, ISI and Pakistani Rangers have established 6 drone centers in the bordering areas and over 170 cases of drone movement have been traced in the region. On 9 separate occasions BSF has gunned down the drone coming into the Indian territory from across the border and over 1150 KG of drugs have been seized in the past 3 years.
Experts and security officials associated with the matter have said that the primary reasons behind ISI's shift of attention towards Punjab are the frequent encounters of terrorists in the valley and the sharp vigil of security forces is shaking up the bases of Pakistan-backed terror outfits due to which they have found a new way in challenging the security of the country by supporting the existing terrorists and gangsters active in the state.
The chief of Sikh for Justice, Gurpatwant Singh Pannun has been spearheading the protest in Punjab from Canada. Punjab Police in its various rounds of investigation has found that Pannun has been luring youths in the state with money and narcotics to work for SFJ.
Last month ahead of PM Modi's Punjab visit he issued the challenge with the intention to threaten the security officials through a video message saying SFJ associates have already reached Mohali.
Pannun belongs to Khankot of Amritsar and is a law graduate who has for years taken ISI's assistance in spearheading anti-India movements in the country. The Indian government has declared him a terrorist under the stringent UAPA.
Owing to the move in Punjab the central agency NIA launched a state-wide raid with the intention to some crucial hands over the prevailing nexus yesterday. The agency also launched an attack on the whereabouts of dreaded gangsters in the state.
One of the reports that left the Indian government in shock was released in 2021 by an American think tank Hudson Institute which said that ISI is directly linked with providing funding to 55 Khalistan and Kashmiri secessionist outfits.
Over to that, the organization has been providing all forms of support to these outfits in America to carry forward moves which potentially are linked to shaking and challenging the security agencies in India.
According to the report, American agencies are also aware of this. The government there did not pay attention to the violence of the Khalistan associates. The staunchest supporters of the Khalistan Movement have now found their bases in Western countries like Britain, Canada, and America.
Moreover, a dossier prepared by security agencies has claimed that the Khalistan movement is now shifting from Canada to Germany. In January, the NIA claimed that 9 big Khalistani members were active in Germany to spread terror in Punjab. One of these gangsters Gurmeet Singh Bagga was arrested in Germany at the behest of India.
BJP's Karnal Mayor addresses rape convict Ram Rahim as "Pitaji" seeks his blessing ahead of local body elections; Watch
Bagga was associated with Sikh for Justice and is an accused in the Ludhiana court blasts. He was planning attacks in Delhi and Mumbai, leading Interpol to issue a red corner notice against Bhupinder Singh Bhinda, Shaminder Singh, and Harjot Singh, who are active in Germany at present.
Gurmeet Singh Bagga also sent 532 kg of heroin worth Rs 2,700 crore, which was caught at the Attari border in the year 2020. According to the report, Khalistani terrorists sitting in Germany had planned a major attack on India on 26 January 2022, however, they failed.
Jaswinder Singh Multani, the mastermind of the blast in Ludhiana court, was also arrested in Germany in December 2021. After his arrest, the investigative agencies came to know that a large base of Khalistan supporters is coming up in Germany. The country-based gangster remains in touch with him.
On the question over the consolidation of Khalistan's base in Punjab, National President of Anti-Terrorist Front Maninderjit Singh Bitta said that Pakistan is continuously sending arms and RDX to Punjab. The weapons seized in Karnal, Kurukshetra, and Amritsar were to go to Maharashtra, Andhra Pradesh, and other parts of the country.
He went on to say that the attack on me in 1993 was planned in Canada. Today, not only Canada but Germany and America are turning out to be a hotspot of Khalistani associates with backing from ISI.
Bitta said that in Sikhism, Khalis means pure, but they are fugitive terrorists from ISI. Sikhs are massacred in Pakistan, our Gurus are insulted, then no voice is raised from Canada, America, and Germany. The way he insulted the tricolor after the farmers' movement, his spirits have increased. People like Pannun are getting support from China and Pakistan.
Attacks on temples by Khalistanis:
25 January 2022: The temple of Goddesses Chintpurni in Brampton was vandalized. Khalistani associates were linked with the incident, however, things weren't concluded.
February 2022: 6 Hindu temples attacked in Toronto. The accused took away all the cash, idols of the deity, and ornaments offered to them from the donation boxes.
14 September 2022: Khalistan supporters ransacked the Swaminarayan temple and wrote anti-India slogans, later posting the video on social media.
History of a pro-Khalistan call:
Motilal Nehru proposed Purna Swaraj in the Lahore session of Congress in 1929. This was opposed by Shiromani Akali Dal leader Master Tara Singh who demanded a separate state for the Sikhs. In 1947 this demand turned into a movement. This was named the 'Punjabi Suba Movement.'
After this the country became independent and Punjab was divided into two parts. Many organizations including Shiromani Akali Dal continued to agitate and demonstrate for a separate state in India for 19 years.
Finally, in 1966, the Indira Gandhi-led government decided to divide Punjab into three parts. Which at present stands as a Sikh-majority Punjab, Hindi-speaking Haryana, and the third part as a UT Chandigarh.