Published On
Pargat Singh questions the decision of AAP for nominating Sanjeev Arora as Rajya Sabha candidate; calls him a tainted businessman
Congress MLA Pargat Singh asked Kejriwal and Bhagwant Mann to do an inquiry on the Business of Sanjeev Arora; claims that it is the betrayal of Punjab mandate
Author :
Samriti Bharadwaj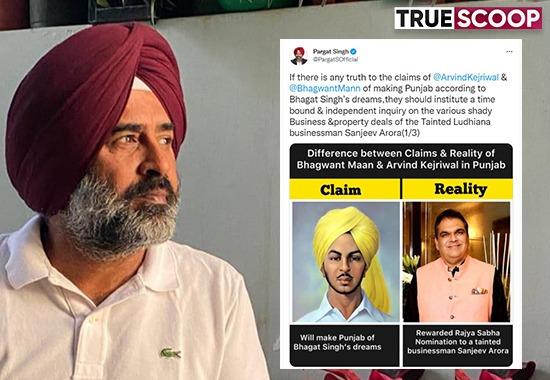 After Aam Aadmi Party has announced the five names for the Rajya Sabha members from Punjab, the party is surrounded by multiple controversies. The opposition parties are questioning the decision of Arvind Kejriwal and CM Bhagwant Mann for choosing these billionaires as Aam Aadmi faces.

The five names announced as Rajya Sabha candidates are Phagwara-based Lovely Professional University (LPU) Chancellor Ashok Mittal, Jalandhar-based cricketer Harbhajan Singh, party's co-in-charge Raghav Chadha, industrialist Sanjeev Arora from Ludhiana, and Delhi IIT professor Dr. Sandeep Pathak.

Today Ex-Education Minster of Punjab Pargat Singh twitted and questioned Aam Aadmi Party for choosing Sanjeev Arora as Rajya Sabha candidate. He called him a tainted businessman.

In his tweet, he wrote, "If there is any truth to the claims of @ArvindKejriwal & @BhagwantMann of making Punjab according to Bhagat Singh's dreams, they should institute a time-bound & independent inquiry on the various shady Business &property deals of the Tainted Ludhiana businessman Sanjeev Arora."

He also posted a picture with the tweet, indicating the difference between the claim & reality of Bhagwant Mann & Arvind Kejriwal in Punjab. He further tweeted, "Sanjeev Arora has been rewarded with a Rajya Sabha nomination from Punjab. They should also introspect about sending two non Punjabis to Rajya Sabha to represent Punjab."