Published On
Parineeti Chopra-Raghav Chadha's pre-wedding festive begins; Actress' Mumbai home all decked up
Bollywood meets politics: Raghav Chadha and Parineeti Chopra's spectacular wedding preparations. Author :
Malkit Singh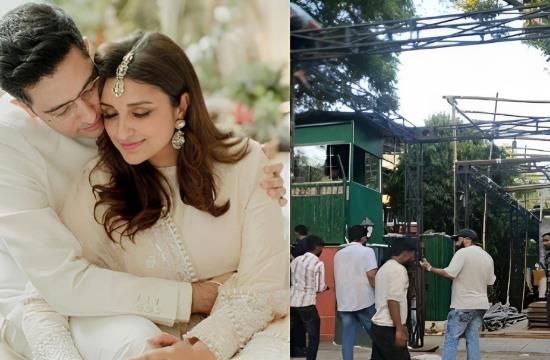 Preparations at Parineeti's home
The wedding preparations for AAP MP Raghav Chadha and Bollywood actor Parineeti Chopra are in full swing. The couple is all set to tie the knot in Udaipur on September 24th. On Monday, the decoration at Parineeti's home was completed, with social media buzzing with videos of the beautifully adorned residence.
Tent set up outside Raghav Chadha's residence
Meanwhile, preparations are also underway at Raghav Chadha's residence. A video surfaced on social media showing the installation of a tent outside his house. Various items are being brought inside the house, indicating the busy wedding preparations.
Cricket match - Chopra vs. Chadha
According to reports, before the wedding, there will be a cricket match between the two families in Delhi. Various games and fun activities have been planned for the guests from both families. This Chopra vs. Chadha family match promises to be a thrilling event, with special friends of the couple also participating.
Stylish pre-wedding moments
As per Sikh tradition, the families are currently engaged in Ardas and Kirtan ceremonies in Delhi. After this, Raghav and Parineeti will host a gate-tug-of-war party with their friends. Recently, Raghav welcomed Parineeti at Delhi airport, and videos of the couple twinning in blue outfits have been circulating on social media. Parineeti added a personal touch by wearing a black cap with the letter "R."
Wedding event schedule
The wedding festivities will kick off in Udaipur on September 23rd, taking place at the Leela Palace. The schedule for the events is as follows:
Also Read: Jalandhar Police launches unique campaign: Traffic violators receive roses and road safety messages
• Chura ceremony: 10 AM
• Fresco afternoon: 10 AM to 1 PM (Snacks)
• Welcome lunch (Greens of Love): 12 PM to 4 PM
• 90s theme party: 7 PM
• Grand entry: Raghav to arrive on a royal boat
On September 24th, the wedding ceremony will be held at the Taj Lake Hotel in Udaipur, featuring a pearl white and pastel theme. Reports suggest that Raghav Chadha will arrive at the Taj Lake Hotel in a grand procession, possibly using Udaipur's royal Ganagaur boat.
• Sehrabandi (Raghav's turban tying ceremony): 1 PM
• Baraat (Wedding procession): 2 PM
• Jaimala (Exchange of garlands): 3:30 PM
• Phere (Wedding rituals): 4 PM
• Vidaai (Farewell ceremony): 6:30 PM
• Reception: 8:30 PM
The wedding of Raghav Chadha and Parineeti Chopra is poised to be a grand celebration filled with love, style, and cultural richness. Stay tuned for more updates from this star-studded event.