Passenger on Vizag-Hyderabad 'Vande Bharat Train' posts video of disgusted food served, IRCTC responds; Watch
It is coming in contrast to the adoring experiences shared by the passengers travelling in the newly launched trains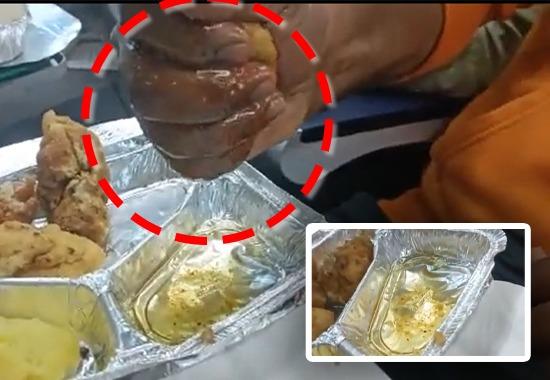 -

In under a month of the much-awaited Vande Bharat train between Vizag and Hyderabad, a shocking video that has surfaced portraying the poor food quality being served has taken the internet by storm.

The video from the train plying between two capital cities showed a passenger squeezing oil out of a dumpling from his breakfast meal that he ordered from the train's pantry while a fellow co-passenger recorded the passenger's disgusted experience.

A journalist took to his Twitter handle to post the video with the caption, "No quality in meals provided to passengers on VANDHEBHARAT train, a little oil squeezed out of vada incident in the train coming from Vizag to Hyderabad, passengers are afraid to eat breakfast. They say that the food quality is bad."

Watch the Video Here:
#VANDHEBHARAT train lo quality leni breakfast, వడ నుండి పిండిన కొద్ది వచ్చిన నూనె
వైజాగ్ నుండి హైదరాబాద్ వస్తున్న ట్రెయిన్ లో ఘటన,
Breakfast తినడానికి భయపడుతున్న ప్రయాణికులు. ఫుడ్ క్వాలిటీ bad గా ఉందని అంటున్నారు pic.twitter.com/Z1WWcw6FTU

— RameshVaitla (@RameshVaitla) February 3, 2023
Gurugram: Man hits parked bike, drags it for over 3KM in the shocking viral video; Watch
Responding soon to the incident the IRCTC (Indian Railway Catering and Tourism Corporation) said that they have taken a stalk of the matter and have initiated corrective measures into the incident. The reply from IRCTC on the post read, "Sir, the concerned official has been informed of corrective measures."
It is coming in contrast to the adoring experiences shared by the passengers travelling in the newly launched trains, a set of videos on the other hand where the passengers have been reprimanding the ignorant services on the same have started levelling up on the internet.
A few days back images of garbage on the Vande Bharat Express prompted Twitteratis to comment on the poor littering by the travellers, wherein many claimed that the proper dumping facilities also lacked inside the train.