Published On
Patiala Violence: Divisional Commissioner Chander Gaind says, Police worked day and night; tackled the situation very well
The Divisional Commissioner along with IG Mukhwinder Singh Chhina and other officials held a press conference regarding the Patiala Violence
Author :
Samriti Bharadwaj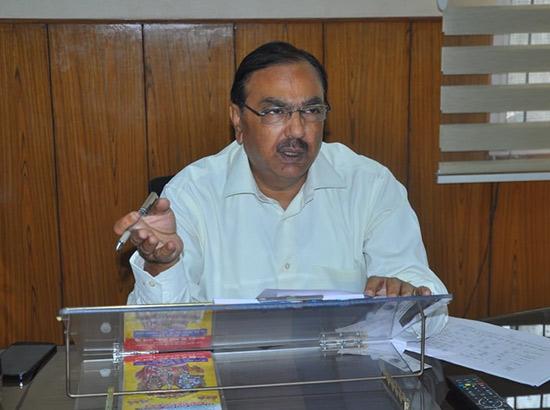 On the matter, Divisional Commissioner, Chander Gaind said that we should be thankful to the police department that they worked day and night. The police department and the district administration have tackled the situation very smartly against those who tried to disturb the peace of the city. The authorities are doing their investigation.

The newly appointed IG Mukhwinder Singh Chinna, in the press conference regarding the Patiala Violence matter, said that the police has registered 6 FIRs on yesterday's violence in the city. Three accused have been arrested so far. Harish Singla is also included in it. He said that Barjinder Singh Parwana is also one of the accused, who is termed as one of the masterminds of the whole conspiracy.

Barjinder Singh Parwana is behind the execution of the whole plan. Raids are being conducted since last night and police teams are still working to arrest him.
Harish Singla, is also arrested by the police and sent on two days remand by the court. The court has ordered Shiv Sena leader Harish Singla to be held in police custody for two days. The anti-Khalistan march was led by Singla. After a clash between Sikh fundamentalists and the Shiv Sena over the protest, violence erupted in Patiala.

Singla accused the police administration of failing to handle the situation during his court appearance. For the time being, the police will receive the full story of the anti-Khalistan march being taken out of Singla.

IG also said that Strict action will be taken against those who are guilty, regardless of their connections. They will be interrogated and arrested. Charge sheets will be filed against them in the court and no relaxation will be provided to them.

A peace meeting was also held by the department with the important religious personalities of the city to maintain peace and harmony there. The investigation is still ongoing.

Also read: Patiala News Today: Who is Barjinder Parwana mastermind of violence against 'Khalistan Murdabad' march

A person also got a bullet injury and was admitted to the hospital. He is out of danger and receiving further treatment. The bullet is not extracted from the patient's body due to medical reasons. So far 3 arrested have been made the investigation is ongoing.