Ankita Lokhande is heartbroken as the month of June begins, remembering the late actor Sushant Singh Rajput's death anniversary. On June 14, 2020, Sushant found dead in his house.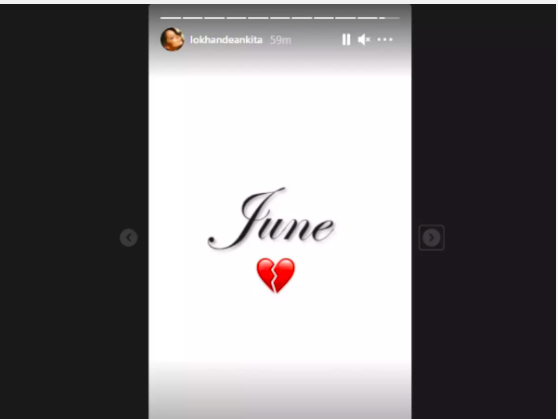 The actress took to Instagram to share a story about the heartbreaking emotions that the month of 2020 brought with it. Ankita added a heartbreak emoji to her tale and commented, "
June." The post expresses Ankita's pain and suffering over her ex-boyfriend Sushant's sudden death.





Last June 14, Sushant Singh Rajput committed suicide. His untimely death sparked many questions, and his family, friends, and admirers are still seeking answers. The CBI and the NCB are presently investigating his death.

Also Read: 'There's nobody like you Maa': Sanjay Dutt Posts Throwbacks remembering mother Nargis Dutt on her birth anniversary
Meanwhile, Ankita has been a staunch supporter of Sushant and his family since his death. She has spoken up for the actor after his death to ensure that justice is delivered to the late actor and his family as a result of the rumours surrounding his case.

Ankita had previously uploaded a post commemorating the 12th anniversary of her and Sushant's show Pavitra Rishta. She shared a video with Sushant and the rest of the cast and crew from the program.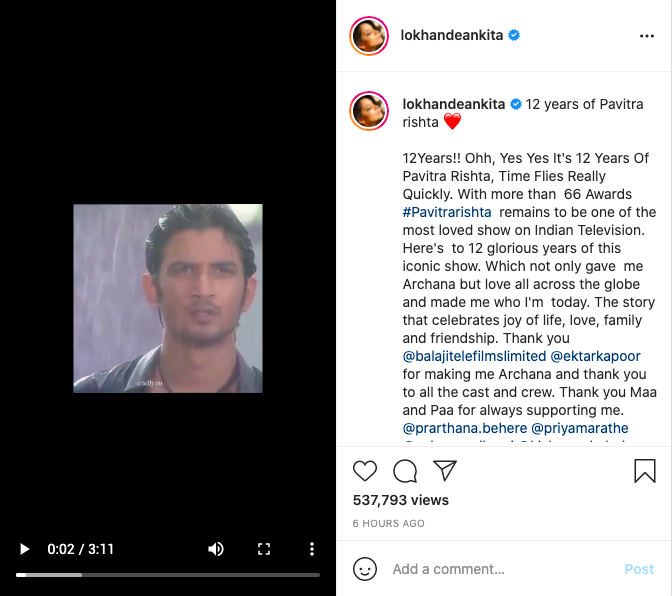 Shared the video, Ankita wrote, "12 years of Pavitra rishta 12Years!! Ohh, Yes Yes It's 12 Years Of Pavitra Rishta, Time Flies Really Quickly. With more than 66 Awards #Pavitrarishta remains to be one of the most loved show on Indian Television. Here's to 12 glorious years of this iconic show. Which not only gave me Archana but love all across the globe and made me who I'm today. The story that celebrates joy of life, love, family and friendship. Thank you @balajitelefilmslimited @ektarkapoor for making me Archana and thank you to all the cast and crew. Thank you Maa and Paa for always supporting me." Also Read: Siddharth Pithani dodging NCB from 9 months; Here's How his Instagram post helped in arresting him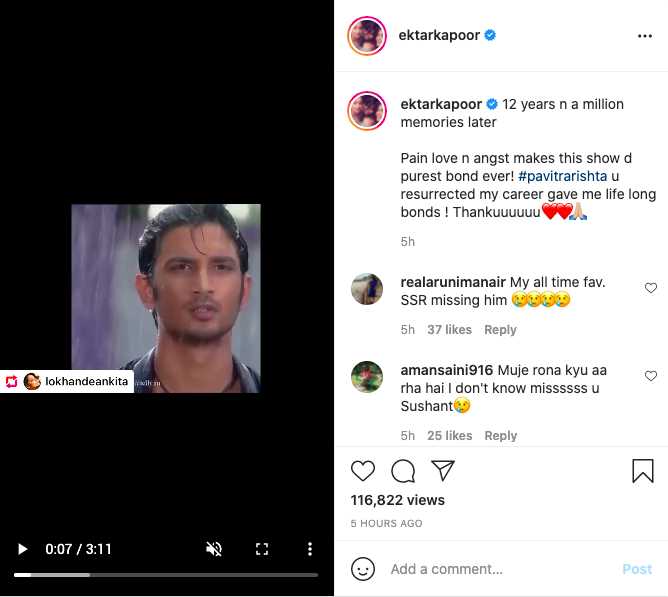 Ekta Kapoor, the program's producer, also uploaded a post emphasizing the significance of the day and the program for her. She wrote, "12 years n a million memories later Pain love n angst makes this show d purest bond ever! #pavitrarishta u resurrected my career gave me life long bonds ! Thankuuuuuu