Published On
Phagwara: Protest by farmers on Jalandhar-Phagwara Highway; Police administration diverted route through the Sugar mill
Police administration of the Phagwara sub-division falling under district Kapurthala has diverted the routes
Author :
Samriti Bharadwaj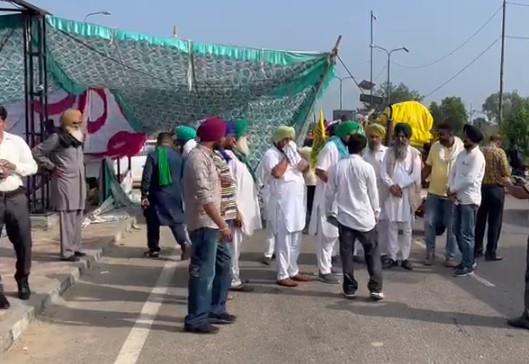 You may encounter difficulties on the highway if you are traveling from Pathankot-Jalandhar-Amritsar towards Ludhiana or arriving from the Ludhiana side towards Jalandhar. Farmers are going to sit on the highway in front of Sugar Mill in Phagwara between Jalandhar and Ludhiana from 9 am today. Crores of rupees are owed to the farmers by the sugar mill and they are demanding its payment.
Farmers will protest under the United Kisan Morcha banner in opposition to the sugar mill's failure to pay their cane dues. Farmers claim that the mill is holding onto its outstanding balance of Rs 72 crore. Farmers claim that the mill has crores of rupees in their possession, but neither the government nor the management of the sugar mill seems to be taking them seriously.
In view of the protest, the police administration of the Phagwara sub-division falling under district Kapurthala has diverted the routes. Traffic Incharge Phagwara Aman Kumar said that SSP Kapurthala SP and the Phagwara administration have issued a traffic diversion route plan in view of the farmers' protest. This directs traffic from the Mehtan Bypass to the Bhullarai Road in the direction of Delhi from Jalandhar. From the Mehli bypass, the light vehicle has been diverted to Hargobind Nagar on GT Road.
From Banga, heavy vehicles have been diverted. Similar to this, traffic from Jandiala to Jalandhar via Hadiyaabad, Gandhwa, and Mehtan has been rerouted via LPU. Similar to how light vehicles traveling from Phagwara's village of Mauli will reach Jalandhar via Hadiya Bad Gand and Mehtan LPU, big vehicles traveling from Ludhiana to Jalandhar will do so via Phillaur and Noormahal Jandiala.
#Ground Report- Jalandhar becomes a city of waste dumps instead of Smart City