Milkha Singh, the former Commonwealth Games champion and 1960 Rome Olympian, was admitted to Nehru Hospital Extension at Post Graduate Institute of Medical Education and Research (PGIMER) on Thursday, four days after being discharged from a Mohali hospital after contracting Covid-19 last month.
While the 91-year-old athletics great stayed at the Mohali hospital for six days before being released, Singh's wife Nirmal Kaur remains in the Mohali hospital's ICU with fluctuating oxygen needs.





"Yes, my father has been admitted in the PGIMER today," Singh's son and 14-time international winner Jeev Milkha Singh confirmed.

Singh, who caught the Covid-19 virus on May 19 after one of their cooks tested positive for the virus at their Sector 8 residence, was brought to a Mohali hospital on May 24 with diarrhoea, dehydration, and a low oxygen saturation level.

Also Read: Rafael Nadal Birthday Special: When 'King Of Clay' hits ball-girl at Australian Open; apologises with kiss
Milkha Singh was isolated and on oxygen assistance at home after being released from the Mohali hospital on Sunday, before being taken to PGIMER on Thursday afternoon with low oxygen levels.

"Flying Sikh Milkha Singh has been admitted in ICU in Covid Hospital of PGIMER at 3.35 pm.today due to dipping levels of oxygen.He has been kept under observation and is stable now," said Prof Ashok Kumar, Official Spokesperson, PGIMER.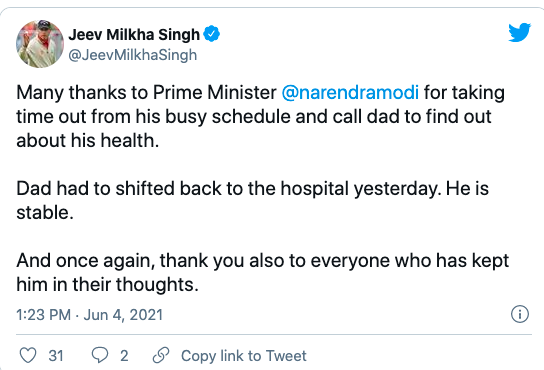 Prime Minister Narendra Modi talked to famed sprinter Milkha Singh on Friday to inquire about his health, as he has been ill.

According to government officials, Modi expressed hope that Singh, who was hospitalised to a Chandigarh hospital on Thursday, will return soon to bless and motivate sportsmen competing in the Tokyo Olympics.